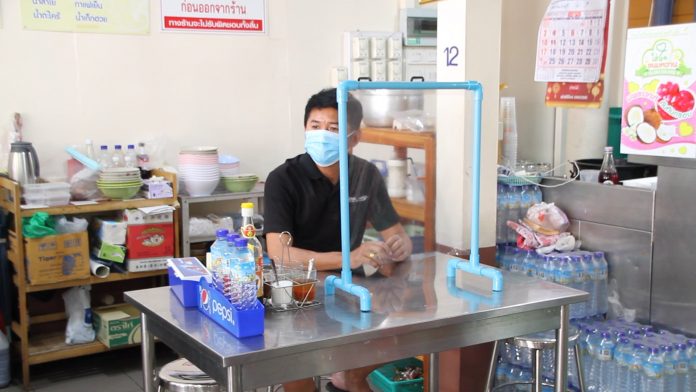 Bangkok, Thailand-
The President of the Thai Restaurant Association, Thaniwan Kulamongkol, has written an open letter to the Thai Prime Minister, Prayut Chan O'Cha, asking him to consider not closing in store dining in Bangkok and other provinces for multiple reasons.
The letter was sent earlier this evening and is only the latest, the Pattaya News notes, in many organizations protesting the strict restrictions and measures to control the Covid-19 coronavirus, claiming that without financial aid and support the industry cannot handle another potentially extensive shutdown. This follows prominent pro-democracy protest leaders, government opposition leaders and even some current provincial governors to speak out about increasing measures and restrictions being suggested by the Public Health Ministry and Center for Covid-19 Situation Administration, claiming the economy and infrastructure cannot deal with another extensive closure.
The letter stated several things, including the fact that restaurants were utilizing strict Covid-19 prevention orders and were willing to implement even stricter health care standards and compromises to stay open, such as reintroducing partitions, better social distancing etc. She stated, however, that a total "take out" only option would devastate many workers, especially those informal and without much money who would be facing for some a second layoff or furlough of the year.
She also stated that many restaurants were not setup properly for takeout and would have no choice but to close, further devastating the economy, especially if the order hit Bangkok.
As of press time, the Bangkok Metropolitan Administration had not decided to close in store dining along with several other provinces like Chonburi and Rayong that are considered "high risk".  This was despite several "requests" by the CCSA to do so to the provincial governors and a "proposal" to have the CCSA directly take over the rules and policies possibly as early as Monday. Some provincial governors, meanwhile, felt the regulations and rules were too strict and put too much strain on their local residents who depended on their jobs.
Thaniwan also brought up the point that if restaurants close or go to take-away only this puts a significant side-effect on the Thai farming industry, something that caused significant but not well covered economic damage during the previous closures last year. This was due to restaurants and retailers not ordering as many food items.
Thaniwan also said there wasn't significant proof that current clusters of infections were coming from restaurants and the CCSA had been unable to provide scientific proof of restaurants, especially outdoor dining and street food, being high risk for spreading the virus.
Finally, Thaniwan also said closing restaurants to take away only would have a significant effect on the government's tax.
The letter has not yet received any sort of official response from the Office of The Prime Minister.