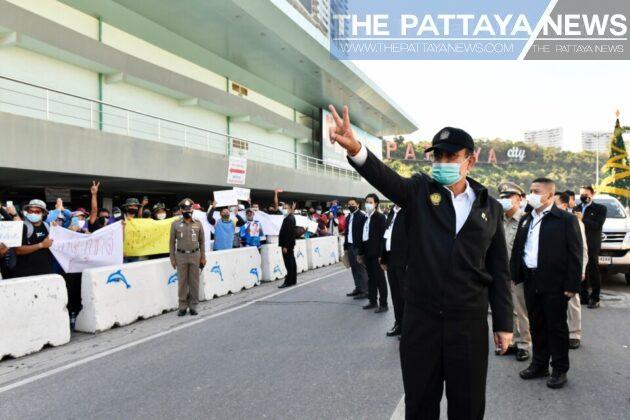 Pattaya, Thailand-
Yesterday, December 30th, 2020, the Prime Minister of Thailand Prayut Chan-O-Cha visited Pattaya to tour quarantine centers and hospitals and provide moral support for local residents who had just been put into a devastating highly controlled status, seeing the closures of almost all non essential business in Banglamung and Pattaya.
This came on the same day that Chonburi announced 108 new cases of Covid-19, most linked to a cluster of people who were allegedly gambling illegally.
Prime Minister Prayut arrived at 2:00 PM at Bali Hai Pier via private helicopter and was greeted by many local residents (wearing masks) to thank him for his visit to the city and provide encouragement. He was accompanied by General Anupong Phaochinda, the Ministry of the Interior and Dr. Taweesin Visanuyothin, spokesperson for the Center for Covid-19 Situation Administration. He was also met by Chonburi officials including the Governor and Pattaya Mayor Sonthaya Khunplume.
They proceeded to visit the Grand Bella Hotel which is being used as a quarantine center in Pattaya and were given a tour of the facilities and care standards by Hotel management and staff. Local residents came out to hold signs and show support, many hoping to get a glimpse of the Prime Minister.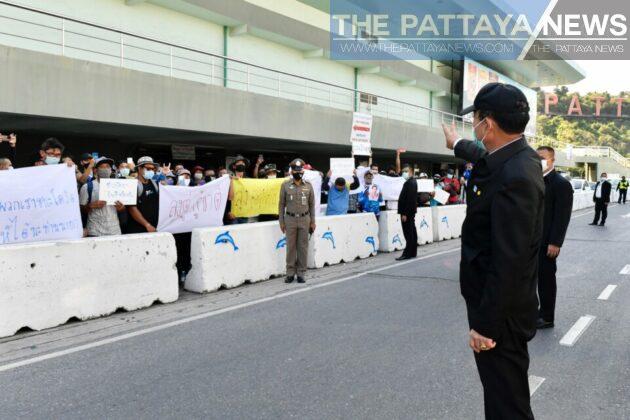 General Prayut spoke to the press and gathered officials and had the following to say:
"Pattaya is the tourism hub of the country and has been devastated by the Covid-19 crisis and lack of foreign tourists. I'm aware of the pain local residents and business owners have felt and have empathy for their situation."
"We ask the people of Pattaya to be strong and come together to beat this recent cluster of infections of Covid-19. Practice social distancing, wash your hands, use the Thaichana check-in platform and wear masks."
Prayut also specifically mentioned the problem of corruption which led to alleged illegal casinos with no social distancing or control measures to be open and stated that this issue would be resolved as several corrupt officials have caused immense pain for the city overall to enter a second period of restrictions and measures.
Prayut reassured Pattaya residents that this current period of restrictions he was positive would not take long to get the situation under control and asked for cooperation from local business owners and residents and called for calm and unity. When asked about potential relief measures for affected business owners and residents he said the Cabinet had approved multiple long weekend holidays next year and that Pattaya City and the Government would organize multiple festivals and events when the situation was under control to drive domestic tourism to Pattaya.