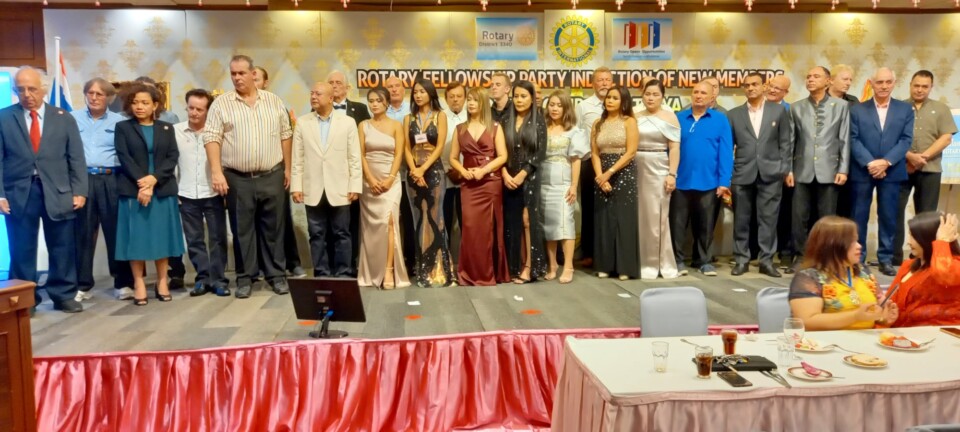 Pattaya, Thailand-
The Rotary Club of Pattaya held a special ceremony this week in which they inducted thirty new members, called rotarians, into the organization at a lavish gala at the First Pacific Hotel in Pattaya.
The ceremony was attended by several guests of honor including The Nongprue Mayor , Dr. Chai Chaiyanit. The event welcomed people from many backgrounds and industries in Pattaya into the Club and even included Pattaya News Co-Founder Adam Judd. The event saw spirited karaoke, a delicious buffet and the induction ceremony and had tremendous feedback from all involved.
The Rotary Club of Pattaya has been serving Pattaya since 1972 and is in district 3340 of the Rotary organization. The expansion is aimed at further serving the Pattaya area and local community and making a positive impact on the community. The club includes both Thai and Foreign members and holds meetings and events in both English and Thai. They meet bi-weekly at the Royal Cliff hotel every other Monday.
The event also saw many rotarians from other clubs and organizations in both the local and greater Thailand area attend.
For more information on rotary and what they do for the community please click here.
In their own words here is a brief overview of what Rotary does for the community:
Rotary is a global network of 1.2 million neighbors, friends, leaders, and problem-solvers who see a world where people unite and take action to create lasting change – across the globe, in our communities, and in ourselves.
The old saying is a picture is worth a thousand words so here are some photos from the event courtesy of member and former club president Niels Colov: