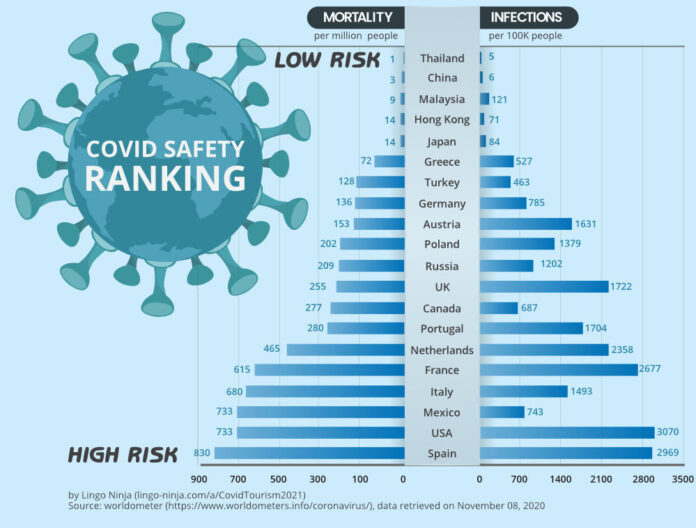 The following are statements by Lingo Ninja and are their own.
Thailand-
Are you looking to get back to exploring the world in 2021? You should consider venturing to Thailand (Editor's Note: When, of course, borders are reopened or by going through the proper process/quarantine/etc.). The data scientists at Lingo Ninja just released the rankings of the 20 most important tourist destinations by COVID-19 mortality and infection rates.
Thailand is the destination with the lowest overall risk (download infographic) and is 600 times safer than the United States. The country reports only five infections per 100,000 people and less than one death per 1 million people. Even now, months after COVID-19 hit Thailand, the population remains extremely disciplined, with most of the population continuing to wear face masks.
Before the pandemic, the "Land of Smiles" was visited by 39.8 million international tourists annually, which made it the eighth most popular tourist destination worldwide. It offers world-famous temples, beaches, islands, and culture.
The safest destinations are all in Southeast Asia. Having been hit by SARS in 2003, the Avian flu in 2004, and MERS in 2015, the citizens of this region have learned their lessons and reacted in exemplary ways.
See the links above for the full report from Lingo Ninja.