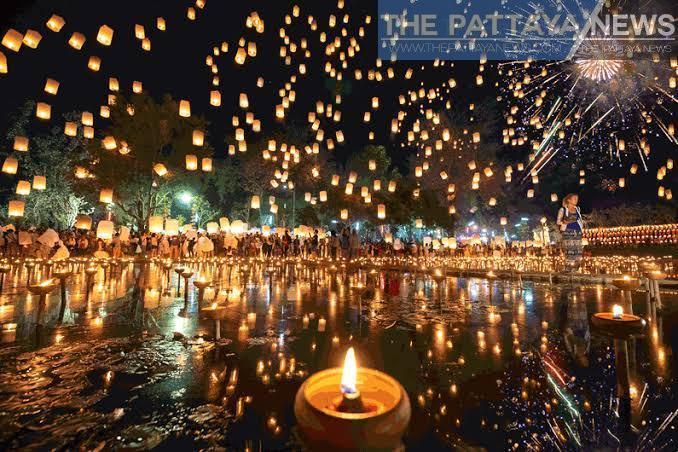 Pattaya, Thailand-
Today is Loy (also sometimes spelled Loi) Krathong in Thailand, one of the Kingdom's most beloved holidays. However, as not all readers may be familiar with the holiday and the traditions we wanted to take a moment to summarize the holiday.
The festival is originally a Siamese festival and literally means to float a basket.
It takes place on the evening of the full moon of the 12th month in the Thai lunar calendar, therefore the date changes yearly. This year it falls today on Halloween which although not traditionally celebrated in Thailand has seen increasing popularity over the past decade especially in Pattaya with many parties and events.
A krathong is basically a small floating container or basket. Designs and builds of the krathongs vary, with the traditional krathongs being made of banana tree trunks or plants. There has been a particular interest in the past several years of ensuring that krathongs do not litter and cause permanent damage to the rivers and oceans that they are floated onto with material that can be eaten by fish or naturally dissolve becoming much more popular than plastic, styrofoam or other types of krathongs. Some people have even tried to raise the popularity of "digitally" floating a krathong online versus potentially polluting a river or ocean.
By floating a krathong one gives tribute to the Goddess of Water as well as "floats away their worries and problems" from the prior year. As 2020 saw the Covid-19 pandemic and was a difficult year for many it is likely that many will want to float away their concerns and worrier. People will also often put money or coins on their krathongs as a tribute to the goddess.
In some parts of Thailand it is also traditional to light fire lanterns, fireworks or candles into the sky although this is banned in the Pattaya area after several fire related incidents in prior years.
Additionally the festival often has beauty contests, religious gatherings at local temples and contests around the best designed krathong. It is also traditionally a time for families and friends to gather, many hand making their krathongs together to float away later in the evening.
The Pattaya News wishes all of our readers a very happy Loy Krathong.