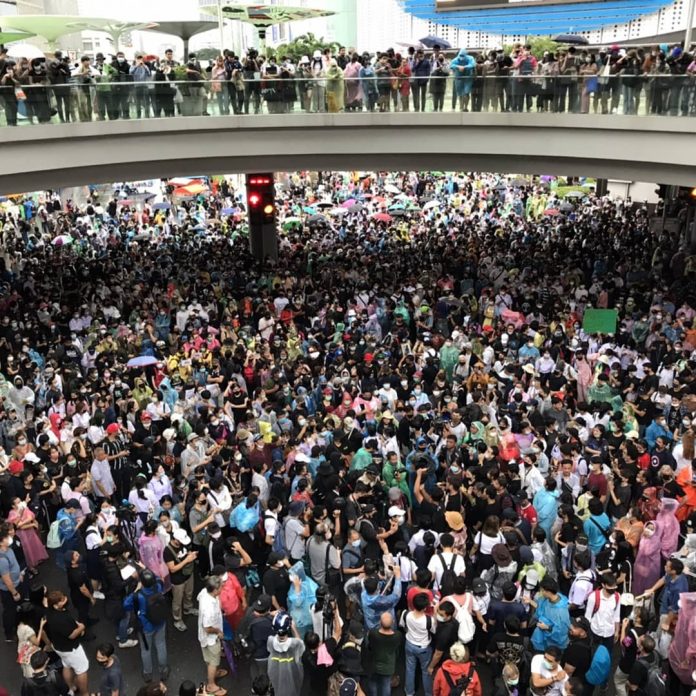 Bangkok, Thailand-
After law enforcement forces broke up what they called an illegal gathering in Bangkok yesterday with riot police, water cannons and other tools protesters released a statement this morning that they will gather again this afternoon.
The statement, which is below in Thai, does not name the location as protesters are now likely to rely on social media applications and flash mob tactics to gather. The stated gathering time, however, is 4:00 PM in Bangkok.
The protesters state that they are now not different groups but are simply "the people" and condemned the government's use of force to break up what they called a peaceful gathering. Multiple human rights groups also condemned yesterday's actions.
The Thai Government has warned that gatherings of over five people, especially for political purposes, are illegal under a declaration of a severe emergency. They have warned that any gatherings will also be broken up and that all protesters face severe legal action.
The Pattaya News will closely monitor the events taking place this afternoon in Bangkok and warn regular commuters in Bangkok that significant traffic delays could take place. Meanwhile, after several days of protests multiple major business owners have reportedly asked the government to bring the situation under control as the protests have caused major shopping districts and businesses to close early.