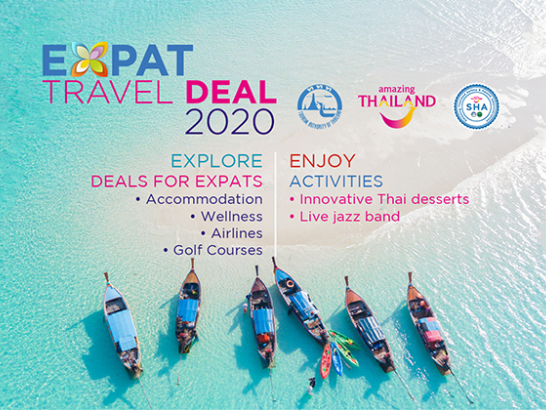 Bangkok-
The last day of a three day expat deals and exclusive offer fairs ends today in Bangkok at the Emquartier Shopping mall and organizers say it was a big success.
The event was designed specifically to offer special promotions, deals and discounts to expats and to encourage expats in Thailand to travel and see more of the country. Due to the Covid-19 pandemic, borders remain closed for general tourists and most other groups of foreigners.  With the virus still raging in many parts of the world Thailand, who is very tourist dependent, shows no signs of re-opening their borders and their lucrative foreign tourism industry anytime soon.
Thailand has run several Thai specific campaigns in recent months but have now also put focus on expats.
The Expat Travel Deal 2020 event is planned to conclude today (September 13, 2020), however the TAT is planning to hold similar events in the near future to allow more foreigners and expats to gain access to special tourism deals and encourage domestic tourism. They stated that the event was overall successful and saw crowds of both expats and Thais curious about the event gathering at the mall.
The Thai Tourism Authority did not give specific numbers of attendees to the event, however, pictures and video did indeed show what appeared to be decent sized crowds browsing the booths and offers on hand. It is unclear, however, if this will result in actual improved tourism and people taking advantage of deals on hand at the event.  Some vendors, like Anantara resorts and hotels, claimed these were the largest discounts and promotions they had ever offered for foreigners and expats.
The event also included live music from a Jazz band and complimentary Thai desserts.
The Pattaya News notes that feedback on social media regarding the event was mixed, with some expat residents stating that this was a great start and they were happy to see Thailand putting some focus on expats. Critics, however, stated that they would rather see universal offers for both Thai nationals and expats and that they felt these offers would never have happened if borders were not closed and that expats should have been given attention far before the country felt they had to rely on them due to Covid-19.