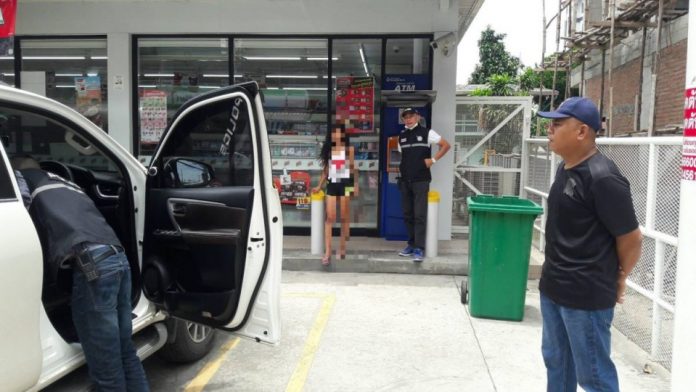 Pattaya-
A heavily intoxicated woman was arrested today in Pattaya and charged with theft after stealing a car parked outside a German restaurant in the Pattaya area.
The owner of the vehicle, Ms. Jutamas Thakluea, 36, had gone to eat at a German restaurant, which wasn't named, at around noon today in Central Pattaya. Her white Toyota Fortuner was parked out front, however, she had by accident left her keys in the ignition. The suspect, Ms. Umaporn Pholor, 27 years old, was walking nearby and noticed this and after Ms. Jutamas went inside to eat stole the vehicle.
Ms. Jutamas noticed around 12:45 PM that her car was missing when she left the restaurant and she called Pattaya Police. Pol. Lt. Colonel Suchart Manakarn responded to the police report and using a combination of CCTV and road patrols were able to locate her vehicle within two hours outside of a 7-11 on Soi Ko Phai.  The suspect, Umaporn Pholor, was extremely intoxicated and unable to answer questions due to her condition.
She was arrested at the scene and police will interview her tomorrow, August 22, 2020, once she has fully sobered up. She is expected to face charges of theft as well as driving under intoxication.
Ms. Jutamas was very pleased with the work Pattaya Police did and told associated press that she wanted to warn everyone to remember their keys and lock their vehicles.
Photo: 77kaoded