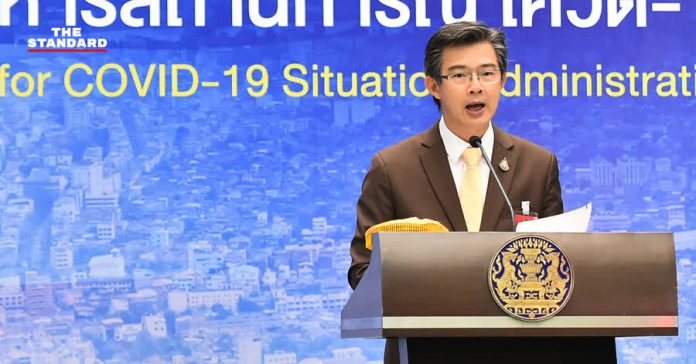 Bangkok-
The Center for Covid-19 Situation Administration, or CCSA, reported a positive case of Covid-19 today, July 13, 2020, from an Egyptian soldier in Rayong and stated they are concerned about the case as the soldier reportedly visited public places despite being on quarantine.
The soldier, who was only described as a 43 year old Egyptian soldier who arrived with a larger delegation and air crew, tested positive on Sunday and was asymptomatic with zero symptoms according to Dr. Taweesin Visanuyothin of the CCSA. The soldier has since returned to Egypt and was only in Thailand for a short stay as a crew member of a military related flight which the CCSA did not elaborate on.
Dr. Taweesin stated that the group of foreign delegates and military were allowed to enter Thailand under an exemption for crew members of military and diplomatic flights.  This drew outrage on social media, especially in Rayong, as angry citizens posted hundreds of comments on Thai media and forums this afternoon, concerned about a possible cluster of infections that could be caused by the exemption that was not their fault and affect their lives and business. Dr. Taweesin, meanwhile, pleaded for calm and said that the government was not hiding any information and would need several days to properly contact trace the movements of the Egyptian soldier.
The exemption Dr. Taweesin referred to enter the country was not an exception but a previously allowed provision for crew members of military, cargo and similar related flights to be allowed to enter the country. The exemption does not provide for crew members to leave their quarantine hotels and how this happened is under investigation, the CCSA stated.
Dr. Taweesin confirmed that some members of the group visited public venues in Rayong, however, despite speculation on social media, did not officially state where they visited. He said the CCSA is following up with every location and being transparent.
The Disease Control Department director, Suwannachai Wattanayingcharoenchai, told the press this afternoon that an investigation was ongoing and he could not yet state exactly where the Egyptian soldier went until they had concluded their investigation. He said this would take about 2-3 days. He said that all those who were in close contact with the delegation and the positive soldier will be tested and quarantined.
The other airmen and delegates with the positive Egyptian soldier all tested negative, according to the CCSA.
The Egyptian airmen arrived on Wednesday July 8th, according to the CCSA, at U-Tapeo airport. They stayed at a hotel in Rayong under quarantine procedures then went to Chengdu, China for one day on July 9th for a military related mission.  The CCSA did not elaborate on this mission, citing security concerns. They re-arrived in Thailand on the same day and were tested for Covid-19 on July 10th. The final results came in on July 12, but the soldier had left the country on Saturday, July 11th.  The group of airmen had reportedly also visited the UAE and Pakistan for short visits prior to arriving in Thailand.
Dr. Taweesin said that this case, as well as a second case involving the daughter of an ambassador in quarantine testing positive, would cause a re-evaluation of the procedures and processes for people in special diplomatic categories of visitors, short stay visitors and flight crew members. Thailand has previously stated that plans for a "travel bubble' are on hold with no set date announced of resuming the plan, which would allow tourists from "low risk" countries of Covid-19 to visit the country. He also said that the procedures at U-Tapeo would be re-evaluated compared to Bangkok airports.
Thailand has gone 49 days without a single confirmed and recorded locally spread case, the case of the Egyptian soldier is counted as an imported case.
This is a developing story.