Chonburi-
A SUV ended upside down after getting hit by a second vehicle whose driver claimed their vision was obscured by a flying garbage bag in Chonburi yesterday.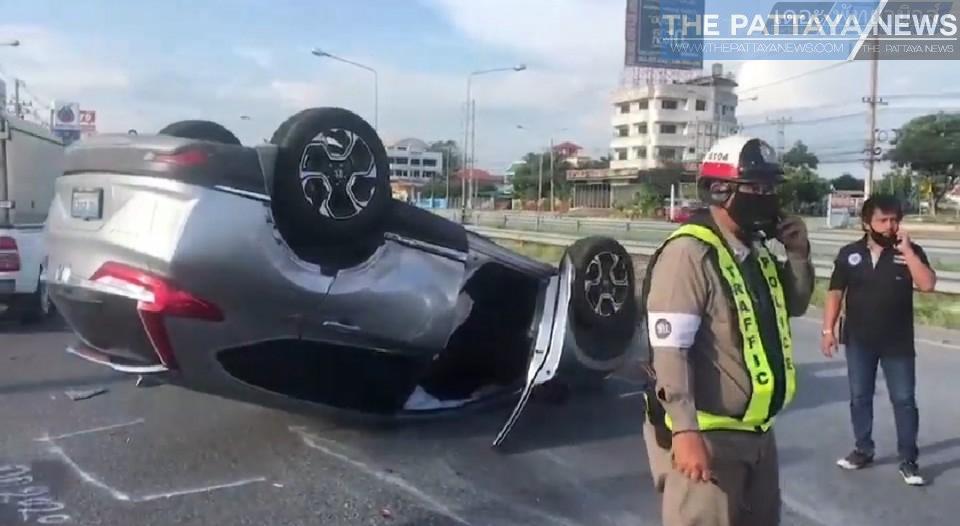 The Samet Police was notified of the accident at 6:00 PM yesterday on Sukhumvit Road in the Samet sub-district.
Police and emergency responders arrived at the scene to find an overturned SUV on the road.
The driver Ms. Nidarat Sukkasirikan, 55, had sustained minor injuries and declined medical assistance.
Another damaged sedan whose driver was Ms. Supaphon Puttaraksa, 35, was found nearby.
Nidarat said she was travelling with her child. Supaphon crashed into the back of her SUV according to her.
She lost control of her SUV before it ended up flipping upside down. Luckily, she and her child were safe and mostly uninjured.
Supaphon claimed a garbage bag flew onto her windshield, obscuring her vision. She panicked before losing control of her vehicle and crashing into Nidarat.
Samet Law Enforcement did not state if any charges would be filed regarding the incident.