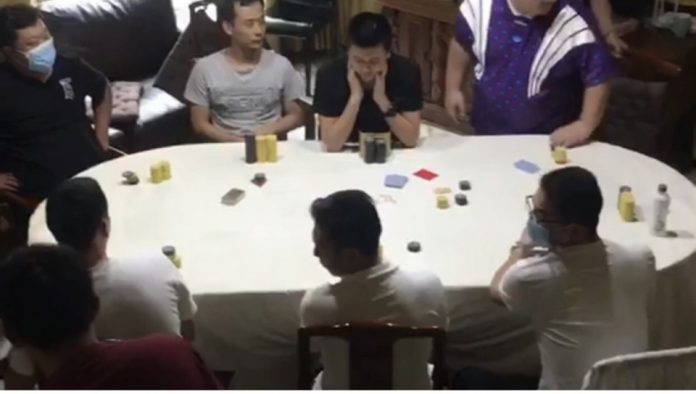 Pattaya-
Nine Chinese nationals have been arrested in Pattaya over alleged gambling and gathering, which is against the current Emergency Decree.
A team of police led by Colonel Chitdaecha Songhong and the Pattaya Tourist Police raided a house in Jomtien Palace housing estate at 8:00 PM last night after a tip from a concerned citizen. A video of the arrest can be seen below.
Nine male Chinese nationals were found allegedly gambling who are named by Pattaya Tourist Police as WANG Dong Xu 30, CHEN Jun 33, FENG Xu 36, XIA Tian 30, LU Xiao 34, ZHEN Yun Lei 32, LIN Feng 42, GAN Xiaobini 31 and LU Wei, 31.
They are facing charges of illegal gambling and breaking the emergency decree while Mr. LU Xiao is facing an additional charge of over staying his visa. Police did not state what his exact overstay period was.
Under the Emergency Decree to prevent the potential spread of the Covid-19 Coronavirus, large gatherings based around socializing, partying, drinking or other similar behaviors are strictly prohibited. There is no specific number of people that can be considered a gathering and is based on individual authorities decisions. Violating the decree carries up to two years in prison and/or a 100,000 baht fine.
Gambling is illegal in Thailand and carries strict penalities.