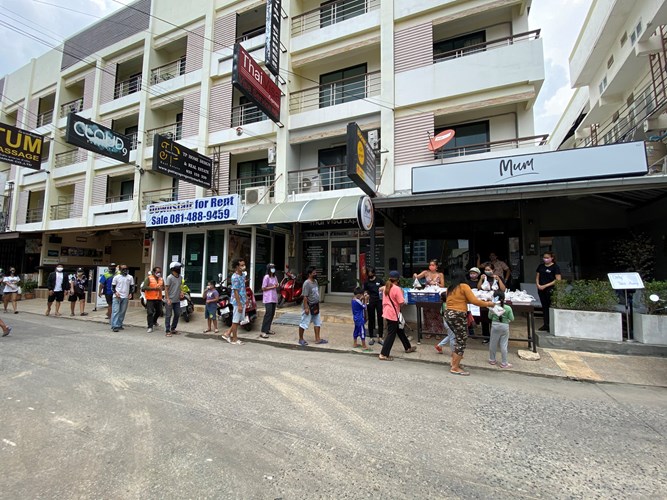 Pattaya-
Mum Pattaya, located in the Soi Buakhao area, have been providing for the needy in Pattaya for weeks and weeks, continuing their current charity support even though many other venues have exhausted their funds or have re-opened their business and stopped providing.
However, the sad truth is that even with entertainment venues finally scheduled to re-open next Wednesday, this will not immediately fix the issue in Pattaya City. With international borders still closed to general tourists except for a small group of mostly repatriated Thais or upcoming medical and businessmen, Pattaya is unlikely to truly come to life anytime soon.
A significant amount of the city business is still shuttered and closed and many people have lost their jobs and everything they had, dependent on the tourism industry. Many businesses like hotels and tourist related attractions have decided to stay closed until tourists can return. Entertainment venues have been closed for three and a half month, which is over 80 percent of the attractions in Pattaya-and even with opening under their strict new rules many may pass for the time being.
Mum has stepped up to the plate and wants to continue helping, even as many have stopped, but needs your help.
They hand out food to the needy in Pattaya every Monday, Wednesday and Friday at their restaurant at noon. Anyone in the city is welcome to join or support directly, small or large, if you are not present you can help via one of these links below:
The following pictures are courtesy of Mum Pattaya from some of their recent handouts. The following statement is also directly from them:
  Only 40 baht! will feed those in need 5 meals!
A standard meal costs 8 baht – and equals to 5 meals for 40 baht, and will feed 5 persons! Please think what it would mean to those who have nothing left. 40 baht pound will feed someone with 5 meals!! Please think about helping those in need, any amount small or large makes a huge difference.