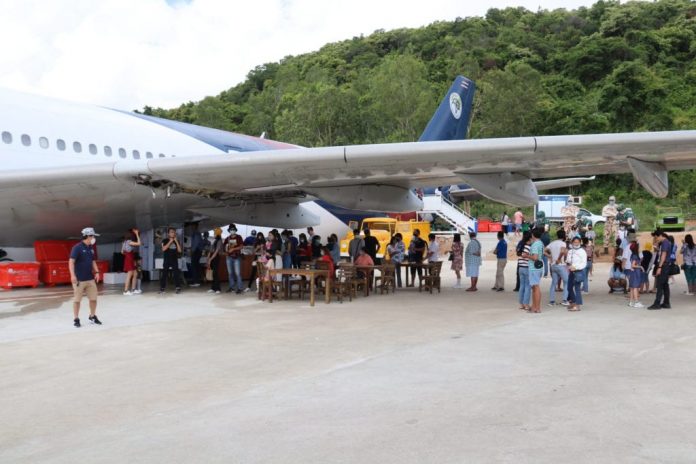 Sattahip-

A coffee shop in Sattahip set up inside an airplane has been ordered temporarily closed by local authorities after over a thousand visitors each day lined up to visit following the shop going viral on social media.
Sattahip District Chief Anucha Intasorn and officials from the public health office yesterday have inspected the coffee shop named 'Coffee War' which is inside a converted Airbus A300 airplane.
After the meeting, officials have ordered the coffee shop to temporarily close for seven days. They said the coffee shop was too crowded in regards to COVID-19 measurements and was attracting lines of over a thousand people daily since going viral on Facebook. Health officials stated concerns that the massive crowds could potentially spread Covid-19.
The Pattaya News notes that the Chonburi area has gone over sixty days without a single confirmed locally spread case of Covid-19.
Rear Admiral Suttipong Boonloi, the coffee shop manager, said the old Airbus A300 airplane cost 10 million baht which has been converted and used to create a truly unique coffee shop.
The coffee costs only about 60-80 baht per cup. Only 60 customers are allowed in the coffee shop for 40 minutes each time.
Suttipomg also stated that they have provided multiple COVID-19 protective measures in the coffee shop like temperature checks, hand sanitizer stations, mandatory mask wearing and disinfecting of surfaces.
The coffee shop is set to be opened again on June 29 after officials and management implement several more COVID-19 protective measurements based on a walkthrough with the health department.
The restaurant continues to go viral on Thai social media for its unique look.
SOURCE: 77 kaoded, story by The Pattaya News