Bangkok-
Pictures of the Thai Public Health Minister allegedly eating at a restaurant in a large group of over ten people at the same table without following strict social distancing rules set by the ministry and CCSA have gone viral this morning, causing outrage on social media.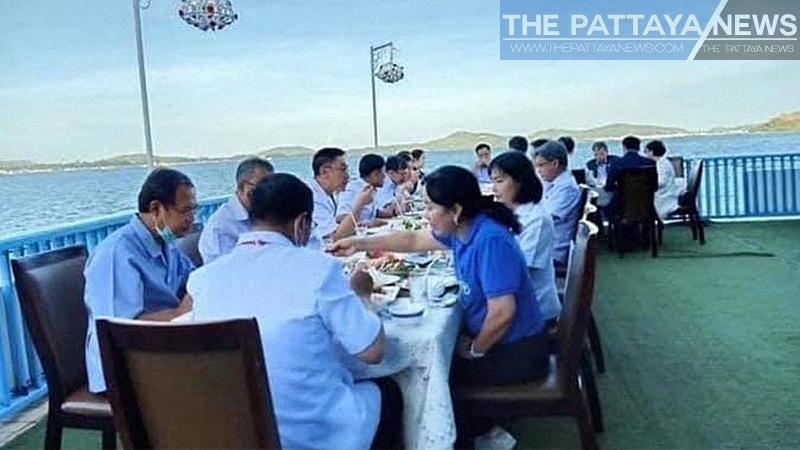 The pictures, which were posted on several Thai media websites this morning and has now also started to surface on English language media appear to show the Public Health Minister, Anutin Charnvirakul, eating dinner with a large group of people at the same table, violating several rules over social distancing and size of groups set by the CCSA and the Ministry.
Thai reaction was fierce, with many asking why it was ok for the Minister or officials to eat in groups but large families and groups of friends could not. Some comments also referred to restaurants that were still separating families and only letting one person per table sit together. Many restaurants continue to require partitions, despite the rules not strictly requiring them if the diners are one meter apart.
The Pattaya News notes that many of the harsher measures referred to in comments were not the policy of the health ministry and were individual mall or restaurant policy. Groups are allowed to sit together, for instance, if they are at least one meter apart now since Phase Three. There is no policy from the Ministry of Health requiring one person per table.
The pictures, however, were allegedly taken on May 20. They were posted originally by the restaurant who appeared to be thanking him for his patronage without considering the possible blowback on social media for alleged rule violations.
The Health Minister is not a stranger to controversy after several comments attributed to his Twitter account were released earlier in the year allegedly calling foreigners dirty and other insults. Anutin claimed his account was used without authorization and hacked after the incident. He was also seen on television using obscenities to refer to foreigners after several refused being given complementary masks during an event in Bangkok.
He apologized for the latter incident and said it was a momentary lapse of judgment.
Photo: The Nation.