Bangkok, May 29, 2020) – Thai Vietjet operated a special repatriation flight to bring home Thai citizens stranded in Vietnam last night. The airline flew 40 Thais, who previously obtained fit-to-fly certificate and permit from Thai diplomatic authorities in Vietnam beforehand, back to Thailand from Ho Chi Minh City on flight VZ3971 and arrived safely in Bangkok Suvarnabhumi at 23.55. All passengers followed the quarantine regulations as instructed by the authorities after landing.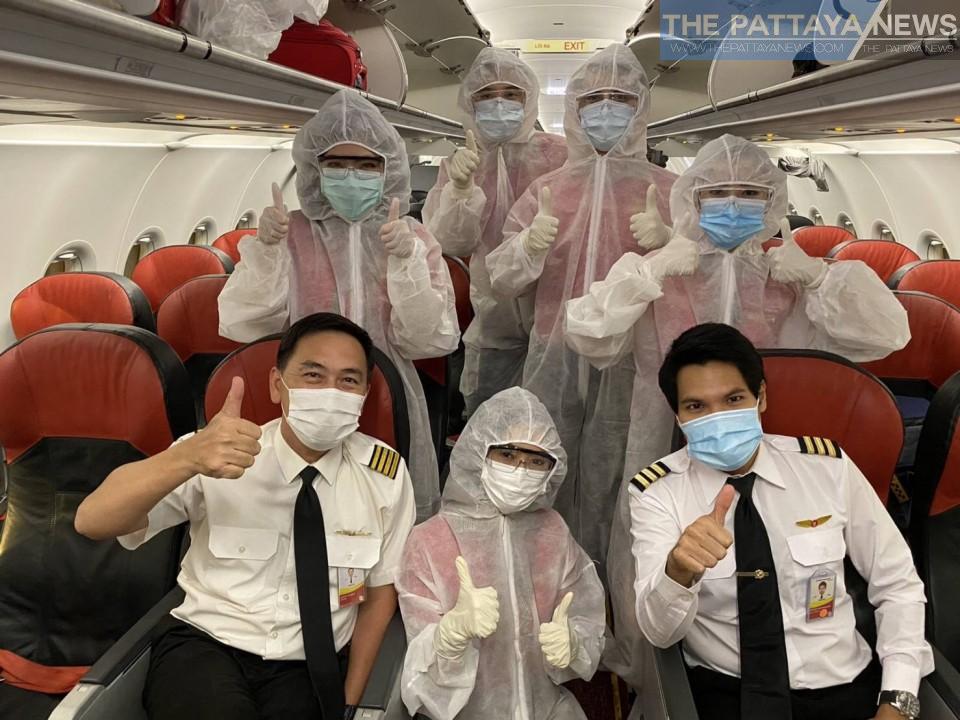 "In order to prepare for passenger international flights during this time, we need to prepare much more steps in the Standard Operation Procedures (SOPs) than the normal flights to ensure the highest level of health safety for the community. Our airline considers this as our mission for the country and Thai people. We've done our  best to do it, and we are very happy to see our passengers having a good time back home safely, united with the family" – Mr. Sathirawat Ponnark, representative of ThaiVietjet's Board of Management said.
To ensure the safety for health from any risk of virus contamination among passengers and cabin crew, physical social distancing and face mask wearing were thoroughly applied to the whole procedure including check-in process, passenger boarding, seating and disembarking. Inflight meals were also not served to avoid any physical contact.
The safety of all passengers, flight crew and the community are always Thai Vietjet's top priority. In order to ensure the safety, the carrier has been strictly performing aircraft disinfection daily throughout its fleet in compliance with Thai Ministry of Public Health and CAAT's directives. The cabin crew also wear the protective mask and gloves and perform cleaning interior facilities more frequently on every flight, plus the airline performs cleaning and disinfection its company premises to reduce potential risk to the staffs to ensure passengers' health.
About Vietjet:
The new-age carrier Vietjet has not only revolutionized the aviation industry in Vietnam but also been a pioneering airline across the region and around the world. With a focus on cost management ability, effective operations and performance, Vietjet offers flying opportunities with cost-saving and flexible fares as well as diversified services to meet customers' demands.
Vietjet is a fully-fledged member of International Air Transport Association (IATA) with the IATA Operational Safety Audit (IOSA) certificate. As Vietnam's largest private carrier, the airline was awarded the highest ranking for safety with 7 stars in 2018 and 2019 by the world's only safety and product rating website airlineratings.com and listed as one of the world's 50 best airlines for healthy financing and operations by Airfinance Journal in 2018 and 2019. The airline has also been named as Best Low-Cost Carrier by renowned organizations such as Skytrax, CAPA, Airline Ratings, and many others.
Thai Vietjet is cooperating with Vietjet to extend its flight network and provide more opportunities for travellers in the world to discover Thailand and many other countries. Currently the airline operates 7 domestic routes from Bangkok to Chiang Mai, Chiang Rai, Phuket, Krabi, Udon Thani plus the direct flight from Chiang Rai to Phuket and Udon Thani, 8 routes connecting Thailand and Vietnam such as Bangkok to Da Lat/ Da Nang, and more international routes from Thailand to mainland China.
Further information at www.vietjetair.com
The preceding is a press release from Vietjet. The words used within are their own.