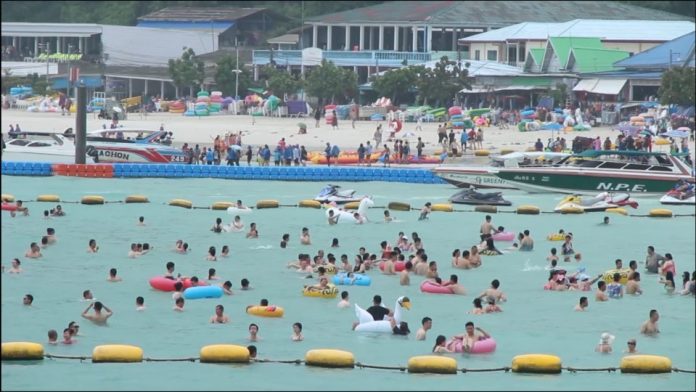 Thailand-
Over the past twenty four hours The Pattaya News has received dozens of questions regarding travel to Thailand, prompted by statements made by the National Security Council Secretary-General Somsak Roongsita earlier this week in Bangkok.
The statements were widely publicized and shared on social media yesterday, in many cases without proper context, somewhat misleading headlines and with the facts and what was actually stated by the General distorted. This led unfortunately to widespread confusion and even false hope for thousands of foreigners currently stuck outside of the country and separated from their families or unable to return to Thailand due to the Covid19 Coronavirus and travel restrictions.
The Pattaya News has spent the past day researching these statements and clarifying what was actually said.
It is important to note that the situation changes sometimes not only daily but hourly, even by the minute in the country as things progress. Most closely following the Covid-19 situation are well aware of this and to take most messages with a grain of salt. This information is, however, current as of press time but subject to change.
Q. Is Thailand open to International tourism July 1?
A. General Somsak or the Thai Government never said he guaranteed the country would open on this date, especially for tourism. The actual translation is closer to the country is aiming for this date for international travel restrictions being lifted but will depend significantly on both the situation with Covid-19 in Thailand as well as regionally and globally. If the number of cases especially internally increase the date can and will change.
Q. International travel? Is that the same thing as tourism?
A. No. This means they are aiming to likely end the current complete and utter ban on international flights coming inbound with exceptions such as repatriation of Thai nationals, cargo and medical flights. This ban is currently enforced by the Civil Aviation Authority of Thailand, or CAAT.
Q. I'm confused. Can I come in on July first and forward or not?
A. In simple terms, almost certainly no for most people. Lifting the ban on international travel means that flights to the country not in the categories above can continue but that those coming in will face significant restrictions, rules and guidelines, at least in the short term. The country has spent months attempting to essentially eliminate local spread of Covid19 and General Somsak said the next month, June, will be spent detailing and determining the level of restrictions to keep this goal. Opening to everyone with no quarantine would not help meet this goal.
Q. So when international travel, not tourism, is allowed based on the Covid-19 situation in July who can actually come?
A. The Ministry of Foreign Affairs has started to hint at this as early as this morning by sending information to all foreign Chambers of Commerce on information needed for a foreigner to enter the country. An exact date of this taking effect was not given but is future dated, meaning likely part of the goal for July first and onward.
Q. What are these requirements for entry sent by the Ministry of Foreign Affairs?
A. They stated that one will need a work permit or permission from a government agency to work. They will need to have medical insurance covering them for Covid-19 for 100,000 USD, a fit to fly certificate and go through a self funded fourteen day quarantine in Thailand. Self isolation will not be available, although quality alternative hotels have been being selected and set up by the Thai government for quarantine over the past several weeks. Diplomats will also likely be allowed to enter. All this information will need to be discussed and taken care of with your local embassy or consulate. Yes, we are well aware in some countries these are closed due to Covid19.
Q. But I heard, someone told me, this article said, my airline is selling flights, I have a wild and special exception, I have lived in Thailand for thirty years, I could come in from July First etc…
A. Airlines will always sell tickets for several reasons but this doesn't guarantee that the flight will come in or certainly that you will be able to meet the likely requirements listed above. As for special exceptions, highly unlikely but one can always speak to their local embassy.
Q. What about elite, retirement, education, marriage, family, etc?
A. Unfortunately at this point it appears very unlikely these are opened up as early as July. Of course, this could change, but the priority appears to be work permit holders and diplomats. The government has certainly heard the growing number of voices of foreigners begging the government to come back in, primarily those married or apart from their family who normally call Thailand a primary residence. It is unclear, but unlikely, if special exceptions will start to take place. None of this will happen until the top priority, Thai nationals being repatriated from overseas, are brought back first.
Q. Why is this taking so long to bring all the Thai Nationals back?
A. Because every single Thai national must go through a mandatory fourteen day quarantine at a state quarantine or alternative self financed quarantine center. The Thai Government has added a significantly large number of new centers and hotels over the past several weeks, a lot of this likely to get ready to start allowing in some classes of foreigners later this summer. It is important to understand that nearly every case recorded in Thailand over the past several weeks has been imported from overseas and that local spread has essentially been only a few single cases discovered here and there in the low single digits for weeks now. Like Australia or New Zealand, Thailand is not working on just flattening the curve but essentially eliminating the virus to zero or near zero.
Q. What about countries on the dangerous disease zone list I have heard about? Wasn't China and South Korea removed?
A. This essentially means visitors from these countries (done by passport, not where one actually was) will likely face additional rules and requirements which will likely be even more stringent then the ones listed above. This includes countries like the USA, Iran, Italy and the UK. It does not mean countries not on the list can walk in with no quarantine, rules or restrictions when international travel opens.
Q. What about the visa amnesty ending at the end of July, will that be extended? I don't want to leave, I can't get a flight out, I am in a financial hardship, etc.
A. No announcement has been made on this and will not probably until mid July. Anything currently said about this is pure speculation.
Q. What about land borders? Can I fly in to Cambodia, etc if they allow it and pass through a land border to Thailand?
A. All border countries have special disease zone classifications meant to make border restrictions and crossings more difficult and under more stringent rules. There are moves being made for nationals of these border countries, like Myanmar, to allow in foreign workers but you would need to be a Myanmar national and have a work permit and proof of employment. Short answer is that land borders are currently closed to entry.
Q. Let us say that I can meet the requirements above. Is there any way to self isolate and avoid a quarantine?
A. Not at this time and considering not a single Thai national has been allowed to, unlikely. Remember, quarantine for foreigners would be self financed.
Q. This sucks. I just want to come see my (insert blank person) who I miss so much. When will things get easier?
A. Likely in the mid fall. Many people have said October but it is important to note that this is also just speculation. Once all work permit holders are back who want to return Thailand will start focusing on other catagories, probably starting with elite visas. Coming in for tourism purposes may start sooner from some countries that Thailand sees having a low case number of Covid-19 or the situation well under control.
Q. I have more questions, my own situation is more complex…etc
A. Please speak with your local embassy or consulate. We at The Pattaya News are unable to answer every question sent to us although will attempt to do so on a case by case basis.
Q. The Thai Government also said the lockdown would end on July first and everything would be open, right?
A. This depends on, same as International travel, the current situation with the Covid-19 Coronavirus and cases. The government is aiming for this date to have all internal restrictions lifted for internal domestic travel and having businesses open. It's important to know that all businesses open will need to have very strict hygiene and safety standards, such as usage of the contact tracing platform, temperature checks, social distancing, etc.