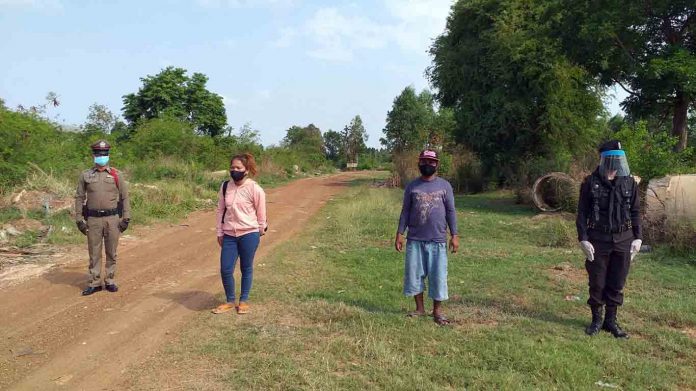 Sa Kaeo-
Two Cambodian nationals were stopped and detained at a checkpoint in the Sa Kaeo Province yesterday and after an interview local law enforcement officials were shocked to learn that the pair had spent the past eight days walking from Lop Buri to Sa Kaeo to attempt to reach their home country after losing their jobs due to the Covid-19 Coronavirus.
Col. Ekaphong Krittayakiatichuti, the commander of the 12th Scout Regiment, headed the interview and checkpoint area where the two Cambodian nationals were detained. The checkpoints were in place to control traffic in Ban Dong Ngu, in the Pa Rai Subdistrict. Across the Kingdom of Thailand various checkpoints have been set up by local and national authorities to discourage travel across provinces and districts during the current Covid-19 Coronavirus situation.
The two Cambodian nationals were identified as Mr. Seun Meng, 38 years old, and Mrs. Nitti Sawuen, 28, both from Siem Reap. The two stated they had been legally working with work permits at a farm in Lop Buri for 150 baht a day. However, the farm had recently laid them off without forewarning, stating that they could no longer afford them due to the Covid-19 Coronavirus crisis. The two had no money and were unable to find passage or a way to their home country so they made the decision to walk. With a lack of buses and public transportation they were limited on options and desperate to return home.
According to the pair, they were untroubled for most of the walk and got assistance from local Thai residents and stayed at several temples who also helped them with food and water. They were given at least one ride from a local resident across Prachin Buri, the two told Col. Ekaphong, although they did not know the name of the kind Samaritan.
The Khlong Luek Police Station stated they will be assisting to help the two Cambodians back to their country in coordination with Cambodian authorities and the 12th Special Ranger Regiment Control Group.
Photos, Original Source: Areeya Samran, 77Kaoded
Translated and written by The Pattaya News team
https://www.77kaoded.com/news/thanapat/1612387