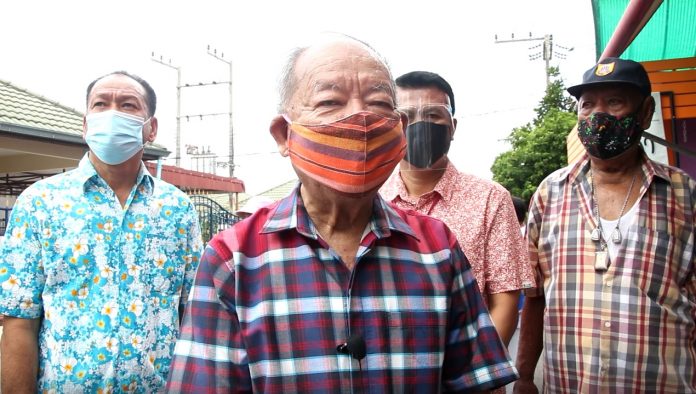 Chonburi-
Wearing of a face-mask to protect against the potential threat of the Covid-19 Coronavirus is still compulsory in the Chonburi province, according to both Law Enforcement and residents who have spoken with The Pattaya News.
The order to wear face-masks first came into effect back in early April, carrying stiff fines of up to 20,000 baht and/or even potential prison time. This order came directly from the Chonburi Governor, Pakarathorn Tieanchai, who stated that it was to help protect the province and citizens from the potential thread of the Covid-19 Coronavirus.
As the number of cases both nationwide and in Chonburi have dwindled to almost nothing, many residents are letting down their guard and relaxing. The Pattaya News reporters have spotted a larger percentage of people without face masks over the past week compared to prior weeks across the Chonburi area. Law Enforcement, however, has warned that the order from the Governor is still very much in effect due to the Emergency Decree extending all previous orders from the Governor until at least the end of May or further notice.
The Pattaya News has had several concerned readers writing e-mails and sending us messages, asking if fines they had been asked to pay for not wearing a mask were legal. Under the current order Chonburi Law Enforcement DOES have the right to fine individuals for not wearing a face mask, even if they are driving or alone.
The Covid-19 Coronavirus Situation Administration, or CCSA, has released guidance around exercise in the past several days warning against wearing a face-mask if engaged in running or heavy athletic activity. However, it was also stated that one should always have a face-mask on their person and be prepared to wear when not exercising. The Pattaya News advises readers to ensure they have one available if stopped or asked while out for a jog.