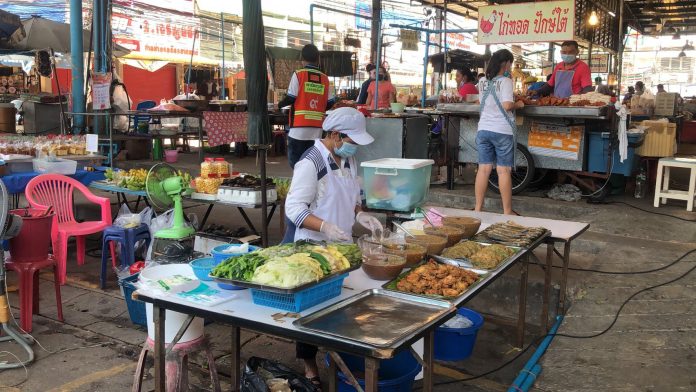 Bangkok-
Dr. Taweesin Visanuyothin, the spokesman of the Covid19 Center for Situation Administration (CCSA), announced this afternoon at a daily press conference from the CCSA that six types of businesses were allowed to re-open, many from Sunday, May 3.
The Governor's of each province will take the list of businesses and decide, based on their unique provincial situations, which, if any, of those areas on the list will be allowed to open in their province. The Governor's can enact the same, or stricter regulations, but cannot relax regulations further than the current Thailand National direction.
Late last night the Prime Minister, Prayut Chan-O-Cha, released an order in the Royal Gazette, under Article 9 of the Emergency Decree to help control the spread of the Covid-19 Coronavirus. This order essentially ensures that all current Governor orders across the nation can remain in effect past their current expiration dates, many of which expire tomorrow, May 1st. The Permanent Secretary for the Interior Chatchai Phromlert, issued an urgent letter to provincial governors calling on them to continue enforcing measures and orders previously made following the gazette order and temporarily hold on drafting of new orders or easing any restrictions in their provinces.
The letter stated that enforcement of all current measures (including the alcohol sales ban) should continue from the 1st of May, while provinces should wait for further policies from the Center for the COVID-19 Situation Administration before issuing any further announcements or orders to ensure a unified direction.
With today's announcement by Dr. Taweesin and the CCSA, the Governor's can now proceed forward with further decisions.
The six categories of business allowed to open from May 3 per the Government are below. It is important to note that Governor's can decide if they wish to open some, all, or none of these. The Chonburi Government, which includes Pattaya, is having several meetings to discuss these items. There are likely many questions on exceptions or if certain businesses or places fall into the context of category announcements, those will come once the Chonburi Government has clarified. The Pattaya News suggests specific business owners with questions call 1337, the local contact center, to clarify if your business qualifies to open and what steps or measures need to be taken.
All social distancing and hygiene procedures must be in place for any business opening, such as required wearing of masks, hand sanitizer available, proper space between customers, regular cleaning of the environment, etc.
The six general categories listed by the Thai Government this afternoon that are allowed to start re-opening from Sunday, May 3 at a National level, keeping in mind that specifics, regulations and rules for the Chonburi and other provinces will be clarified in Province specific orders-
1. Markets. (Fresh markets, floating markets, community markets and street-vendor operations. They must have temperature checks before entering, vendors must follow Public Health Ministry guidelines on hygiene items such as face masks and gloves, masks must be worn, hand sanitizer must be provided)
2. Food shops outside malls, including drinks shops, ice-cream shops, and street food vendors.
3. Retail businesses including department stores, small restaurants (social distancing measures must be applied for sit-in customers), carts, vendors, and mobile electronic shops.
4. Sports and recreation areas including parks – with the exception of team and competition sports, which remain banned. (Beaches have not been clarified and are expected to be done so by the Chonburi Government) This includes golf courses.
5. Beauty salons (but only for cut, wash, and hair drying). These have been legally open in Chonburi for several weeks under the order of the Governor.
6. Pet salons, Pet daycare and pet nurseries.
Dr. Taweesin stated that the regulations are scheduled to be reviewed every fourteen days for guidance of either further restrictions or further easing of measures. The Pattaya News will inform our readers as soon as Chonburi specific clarifications are released.