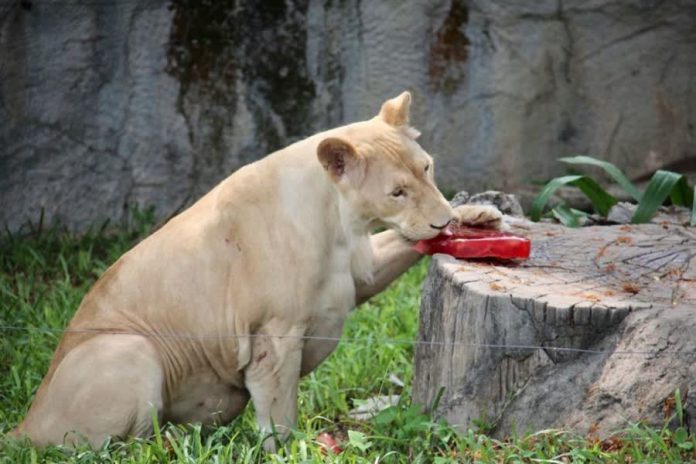 CHON BURI (NNT) – Khao Kheow Open Zoo has been feeding animals with fruit flavored ice to reduce stress from the heat.
Khao Kheow Open Zoo, Sriracha district, Chon Buri province, has been closed since March 18 in response to the COVID-19 outbreak prevention measures. The animals at the zoo have been well taken care of, especially during this time when it is extremely hot and temperatures reach 40 degrees on some days. The animals, including gibbons, sun bears, Asiatic black bears, chimpanzees and orangutans, which can eat cold food, are fed with fruit flavored ice. The tigers and white lions are fed frozen legs of pork and frozen blood.
Mr Atthaphorn Sriheran, Director of Khao Kheow Open Zoo, said, in summer, the animals are likely to become stressed due to higher temperatures and lose their appetites, so Khao Kheow Open Zoo will provide them with special care throughout April.
The Zoo stated that they are ensuring the animals are taken well care of and their stress levels reduced, especially during this time when there are no visitors which is unusual for many of the animals who have lived in the open zoo for their entire lives and are used to regularly seeing people. The Zoo stated they are managing to feed and take care of all animals during the crisis and that the health and welfare of the animals is the top priority of the Zoo.
Source: NNT with additional material from The Pattaya News