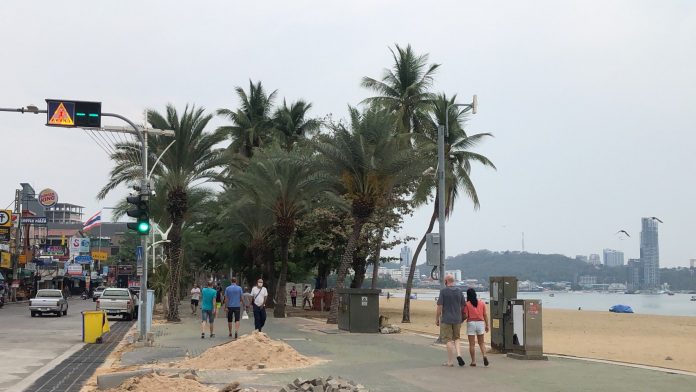 Bangkok-
The Thai Public Health Ministry has begun meeting this week, according to an adviser to the Public Health Minister, to develop guidelines and a plan for lifting some restrictions in some provinces and easing the current rules designed to help prevent the spread of the Covid-19 Coronavirus.
Dr. Kamnuan Ungchusak, an adviser to the Public Health Minister, told the press Monday afternoon that the suggestions made so far were to divide closed businesses and locations into three separate categories-High, Medium and Low risk and address how each business in each category could possibly be re-opened and what rules and precautions would need to be addressed in order to do so.
Dr. Kamnuan said that the Ministry, along with several other Thai Government agencies and officials, agree that the rules should be eased but that it should be done cautiously and carefully, not all at once.
He stated that the current guidelines being discussed address gradually opening up provinces that have either never reported a case of Covid-19 or have not reported one in over two weeks first. Provinces with more substantial cases, including Chonburi, the home of Pattaya, would in this plan be gradually opened at a later date.
Dr. Kamnuan also added that entertainment venues, such as bars, nightclubs, karaoke lounges and other similar locations would be classified as high risk and as a result would need to open last based on the current guidelines being developed. Pattaya is world famous for its nightlife and entertainment industry and makes up a substantial amount of business in the city.
The Public Health Ministry stated that under the current plan being drafted the provinces with no cases would likely begin easing restrictions in early May. Social distancing standards would still be in effect, as well as wearing of masks and good hygiene practices such as hand sanitizer available at every open business. Dr. Kamnuan also said that parks and other low risk outdoor activities would likely be early on the list for opening, provided that people visited alone and did not congregate in groups.
The plan would be given to the CCSA (Center for Covid19 Situation Administration, led by the Prime Minister) sometime later this week, Dr. Kamnuan said.
The Pattaya News notes that Provincial Governors, however, still have substantial leeway in regards to what restrictions and closures to implement, as evidenced by salons, electronic stores and home appliance retailers being open in Chonburi by the Governor's order despite being suggested to be closed at a National level. The Chonburi Governor has said several times last week that he wishes to re-open all businesses-including entertainment-as soon as possible. This comes as charity and food donation lines in the province, especially Pattaya, have begun reaching into the thousands at times, raising concerns not just for social distancing but also for the economic and social welfare of the local population.
Thailand has seen cases in the country on a gradual decline, with just 27 cases reported-the majority in Bangkok-in the past 24 hours, which has led to increasing public demand for loosening of current restrictions.