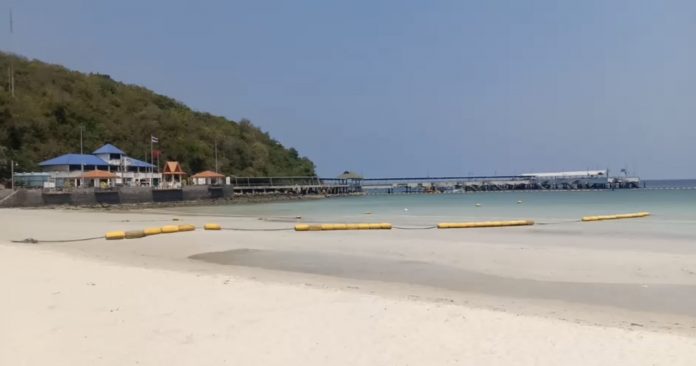 Koh Larn-
The island of Koh Larn, which has a small permanent resident population, has been closed to the public since March 25th in a difficult, but needed decision that was voted for by the majority of residents in a town hall style meeting.
Koh Larn has had zero cases of Covid-19 and sealed the island to protect the local population from the illness. Before the closure the island was getting as many as 5,000 to 10,000 tourists and mainland residents a day, even during the current crisis. Fears began to increase though as cases in Chonburi ticked upwards and the decision was made to close the island and approved by the Chonburi Governor. However, the residents of the island nearly completely depend on tourism income to survive and island residents have begun to ask the Thai and English press for assistance if they are able to help.
The island residents can visit the mainland through a special boat that leaves at 7:00 AM and returns at 11:00 AM daily for basic supplies if they have funds but this is before many local charity groups are offering food donations, according to Koh Larn Residents.
The Koh Larn community led by Mr. Sorasak Thongbongpetch, Koh Larn community secretary, is therefore accepting donations of rice, dry food and funds to assist the residents of Koh Larn who are in dire need.
There are two ways to donate for those interested:
1 Donate dry goods at the Administration Center at the Bali Hai Front Pier 09.00-15.00 hrs, near Walking Street.
2. Donations can be made directly through Kasikorn Bank. Account number 016-804-9102 Name Mrs. Sompit Klamadit
Finally, one can also directly call, in Thai, below to offer assistance:
Mr. Sorasak Thongbongphet, Koh Larn Community Secretary 095-2104720