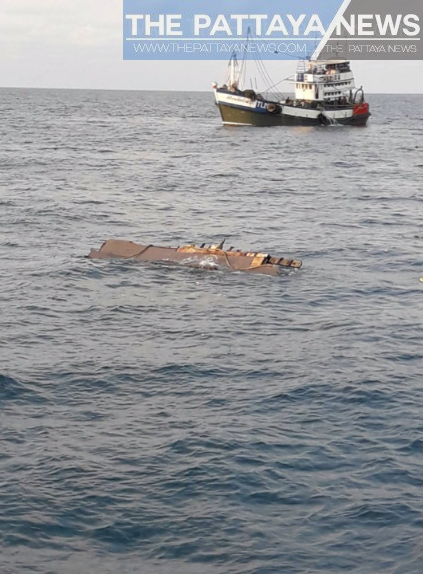 Sattahip –
Eight boat crew members have survived after a cargo ship crashed into a fishing boat in Sattahip yesterday morning.
Early yesterday morning, a Thai fishing boat collided with a cargo ship that was registered to the Nation of Panama.
Six Burmese migrant workers and two Thai nationals jumped off the fishing boat into the sea before the collison after seeing the larger cargo ship approaching at reported high speed and not stopping. Another fishing boat rescued the eight men from the ocean shortly after.
The fishing boat owner and the boat's captain have filed a full report and complaint to the Sattahip Police.
The owner of the boat told Sattahip police that the cargo ship was allegedly driving with high speed before crashing into the much smaller fishing boat.
Sattahip police are continuing their investigation for further legal action and have temporarily detained the Captain of the Panama cargo ship.
Photos 77kaoded