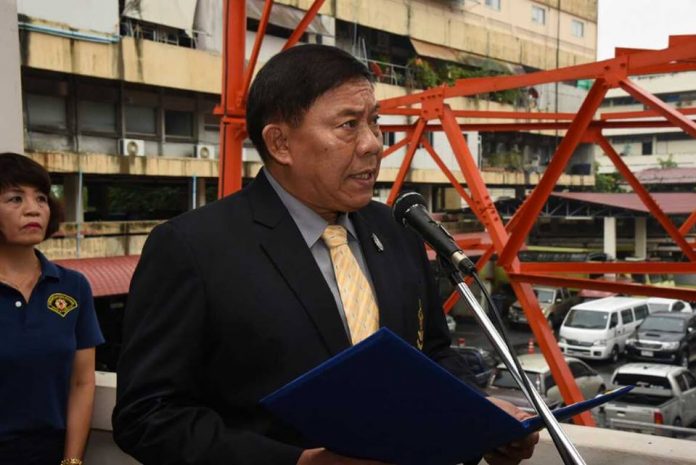 Bangkok-
At a press conference this afternoon from the Ministry of Public Health and a second press conference from Bangkok Governor Pol. Gen. Aswin Khwanmuang, the message was clear-Do not return home to your provinces, protect your relatives and stay in place and this crisis will be over much faster.
With viral videos and photos widely shared of tens of thousands of people lined up at bus terminals and domestic air terminals yesterday to travel, legions of concerned people on social media asked the government for assistance in trying to get people to stay home.
The situation is complicated, as an estimated 55% of the population of Bangkok, which is in the millions, work day to day and earn about 300 (Ten dollars US) baht a day.  Without some sort of financial compensation, and being that the vast majority are informally employed with their own shops or at entertainment venues and don't get any sort of social security support, keeping them put with no options is difficult. When non essential and all entertainment businesses were closed millions of people lost their jobs and source of income in a single moment, albeit temporarily. With the current closure scheduled until April 12th, which is three weeks away, experts say less then 20% of those laid off have the funds to survive until that date, assuming it isn't pushed back again, unless they are provided financial assistance. The jobs affected are primarily low paying, blue collar jobs.
The Governor of Bangkok said, however, based on information from passport control and checking identification at travel points that 90% of the travelers were not Thai and were primarily foreign migrants rushing to the borders before a potential impending closure. He believes the majority of Thai people do understand the risk to their relatives and are staying in Bangkok.
Financial assistance has been promised from the Ministry of Finance, but so far packages proposed mostly seem to be to assist business owners and investors affected by the closures and not regular citizens or staff.
Meanwhile, The Public Health Ministry has asked all provincial governors to ensure that everyone returning to their home provinces enters self isolation for fourteen days and stays away from the elderly and vulnerable. Some provinces, like Buri Ram, have already been doing this for some time successfully.
The message of social distancing was also made very clear by both the Governor and the Ministry of Public Health…unless it is critical you travel, stay home at this time.
Charity organizations, recognizing the need, have begun to come together throughout Bangkok to help offer free food to those in need during this time. The Pattaya News will be covering this in a second detailed article.