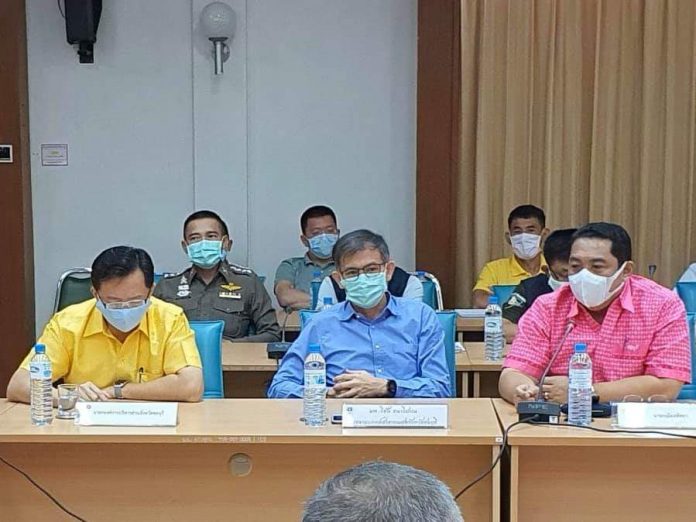 Pattaya-
At a meeting attended by all high level local and provincial leaders today, Chonburi and Pattaya leaders stated they were looking to increase the restrictions and precautions for the area in the wake of the threat of the novel Covid-19 Coronavirus.
The order, which has not been signed by the Governor as of press time but is due to be presented to him this evening, states the following:
-Closure of water parks/swimming pools
-Closure of amusement parks
-Closure of amulet and trinket markets
-Closure of internet shops and gaming cafes
-Closure of Pool Halls, Snooker Halls, Darts clubs and other types
-Closure of Arcades and entertainment style tourist attractions
-Closure of Bowling alleys
Restaurants, malls, stores remain open. Health precautions must be taken and restaurants must not be used as places to drink and socialize in large groups. Bars and entertainment venues remain closed.
The issue of the large amount of people gathering on beaches and the islands was also discussed, however, the Governor of Chonburi does not have the authority to close the beaches, that must come from the Ministry of the Interior as the beaches are public land. They stated that officials will discourage large groups of people, however, and that anyone showing signs of sickness will be removed.
Golf courses will, of note, remain open as will hiking trails, etc.
The length of this order has not been stated and this is a developing story, but highly likely to be signed and approved.
Additionally, Chonburi Province has the authority to screen and only allow in local residents with an address in the area, however, at this time this authority, similar to what is being used in Buri ram, will not be used. The Pattaya News has had unconfirmed reports of people driving to the city being asked about the purpose of their trip or reason for visiting the area.
Chonburi has had ten confirmed cases of the Covid-19 Coronavirus since the start of the outbreak (Eleven if you count a Belgium man who was attributed to Phetchabun but visited the area) and eight of the cases are from a boxing stadium cluster in Bangkok. All have been contact traced and properly quarantined. The two previous cases were an Italian tourist and a Thai man who returned from Italy from several weeks ago and were also contained successfully.
This chart shows the current cases to date in the Chonburi area in Thai.