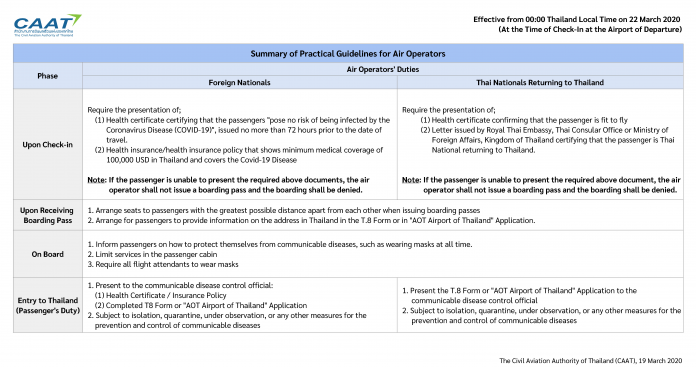 Thailand-
Although avoiding the word lockdown or ban, with the new requirement for a medical certificate of being free of Covid19, which most countries will not give, and a 100,000 USD medical insurance for Coronavirus, which most companies will not cover, Thailand is effectively closing it's borders to travelers as of Sunday.
Currently, Thai nationals are also required to have the certificate but that could change as many have expressed outrage at this as many countries will not test for the virus or give a certificate.
Prime Minister Prayut Chan-O-Cha was careful in not using the words "lockdown" or "ban" but the new strict measures, which will also be implemented at land borders, essentially shut down travelers to the country until the Covid19 coronavirus issue is resolved.
Thai Public Health Minister and Deputy PM Anutin Charnvirakul said that the measure is designed to ensure as few foreigners as possible enter the country and potentially spread the virus to the Thai people.
The new measures apply globally, to every country, and were previously just for disease infected zones as labeled by the Thai Government.
Image: CAAT
Correction Notice: A previous version of this article incorrectly stated that the minimum for health insurance was 100,000 baht. The amount is 100,000 USD. This was an error.