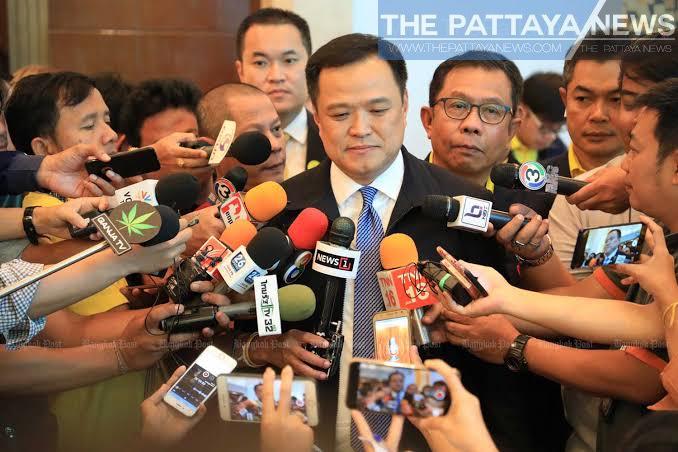 Thailand-
The Thai Minister of Public Health, Anutin Charnvirakul, announced yesterday at a press conference that he will be speaking to the Prime Minister tomorrow, Monday, March 16th about several stricter measures to stop the outbreak of the Covid-19 Coronavirus in Thailand.
One of those measures has gone viral on social media, specifically, to shut down selected bars, entertainment venues and nightlife across Thailand.
In Pattaya, as many local residents and visitors know, tourism accounts for roughly eighty percent of the yearly revenue of the city currently. With an estimated over three thousand bars in the city and dozens of nightclubs, both foreign and Thai, the city is well known worldwide as one of the most popular nightlife and party cities on the planet. The entertainment industry, especially if it includes massage shops and live music venues, employ tens of thousands of people in Pattaya and is one of, if not the, biggest local employer.
The announcement that the government was even considering closing the bars and nightlife drove furious debate on social media, especially on Thai media, with many Thai citizens angry at the government.
Common comments seen by The Pattaya News were people concerned that the lack of consistent and solid border restrictions were leading to this issue. Additionally, many people brought up the issue of Thai nationals returning from overseas and allegedly not given a proper quarantine period. Comments stated that the cases in Thailand were low overall and that the majority of people were fine and things were calm, with nobody knowing anyone who was actually sick.
Other comments asked how people would feed their children or families or even survive from week to week. They asked how the government would help tens of thousands of people who could not work and lived paycheck to paycheck. With tourism significantly down as it was due to the coronavirus, many showed anger at suggesting closing domestic Thai discos and clubs that were keeping people employed.
Foreign comments, many from foreigners not currently in the country and admitting they were in countries in lockdown, were more mixed, with many feeling that it was difficult but needed to ensure the elderly population did not possibly catch the virus. Concerns were brought up that although many younger and healthy people stated they were fine and not sick that they could possibly be asymptomatic and could give the virus to the older population. Multiple comments showed concern about the upcoming Songkran holiday in which traditionally hundreds of thousands of Thai nationals go home to visit their family, many elderly and at risk. Although official water wars and parties have mostly been cancelled, the concern about the massive migration is still there amongst many posters.
We have had many questions about the statements of the Public Health Minister but wanted to make sure we gave the facts as they have been stated at this time:
-The current idea to close bars and entertainment venues is only a suggestion, NOT an order or guarantee, and will be brought up officially to the Prime Minister and the Thai Cabinet tomorrow, Monday, March 16th, 2020. This does not mean the decision would be made tomorrow, merely that it will be officially suggested.
-The Minister of Public Health did not say he would close every bar and nightlife venue in the country, of which there are tens of thousands, but that selected venues across the country would be closed zone by zone that were of high risk. He did not elaborate on what this meant, but made it clear that the suggestion was not a blanket ban on every bar in the country.
-No specific cities or areas were mentioned.
-This is not a ban on alcohol but rather a suggestion to reduce mass public gatherings.
-This follows parts of Vietnam closing all entertainment and bar venues yesterday temporarily.
-One of the largest reasons the idea has been brought up is due to many people not properly self quarantining and disregarding the rules and still going out to public places, especially bars and nightclubs to party. The large group, or cluster, of people detected late last week were all people who went out to a party and shared drinks and smoking. One person was a foreigner from Hong Kong who has since left the country. Officials believe this person was possibly responsible for spreading the virus.
-Thailand remains in stage two, which means no true local transmission, and most cases have been foreigners visiting from overseas. The suggestion is not due to an outbreak on the scale of some other countries but rather to ensure one does not happen.
We will provide more updates as the government gives them to The Pattaya News. It is not expected that a decision will be made before Monday at the earliest. Additionally, there has not been a decision made on moving the Songkran New Year officially to later in the year at this time which has been suggested by the Tourism Authority.