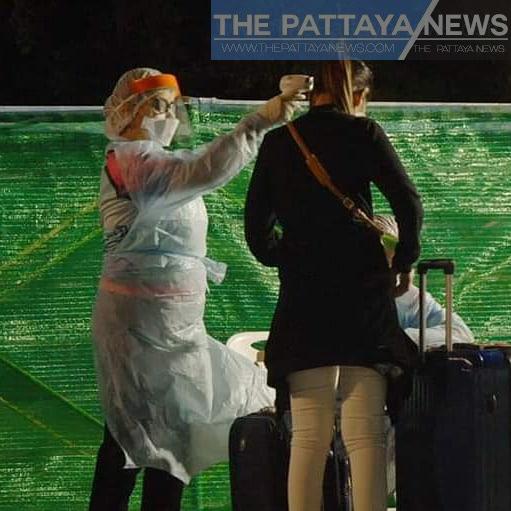 Sattahip-
Quarantine facilities in Sattahip, just outside of Pattaya, are being used to house dozens of "Little Ghosts" a Thai nickname for recent Thai Nationals who have left South Korea and returned to Thailand recently fleeing the Covid-19 Coronavirus outbreak in that country.
Local residents of Sattahip, however, are not happy about this, a marked different reaction then when just a few weeks ago 138 evacuees from Wuhan were welcomed with cheers and support as they spent two weeks in quarantine at the exact same location, a secure hospital owned by the Royal Thai Navy.
Many of the "Little Ghosts" are illegal workers who were primarily employed in the profitable, but illegal, entertainment industry in South Korea according to concerned residents and the fear is they may have had much closer contact with possibly infected individuals.
Sattahip residents fear that the virus could escape the hospital and spread into the local community. Indeed, protests are taking place in several other spots across Thailand where "little ghosts" are also being quarantined as residents demand they be taken elsewhere, despite being Thai Citizens.
City leaders of Sattahip, notes The Pattaya News, have responded by having a major cleaning and disinfection of the city streets and areas all around the quarantine hospital and telling residents the facility and processes are secure and there is no danger to the local community.
Meanwhile, Royal Thai Navy officials and Hospital administration are reportedly considering the idea of placing the quarantined individuals on private Navy owned islands off the coast of Pattaya to help cure the anxiety of local residents who continue to protest in and around the facility the past several days.
Even just last night, another fifty "Little Ghosts" arrived at the facility for a fourteen day quarantine and now that the area is being used on a regular basis…and thousands more returnees from South Korea are expected over the next several weeks…local residents only grow more anxious.
Written by Adam Judd for The Pattaya News