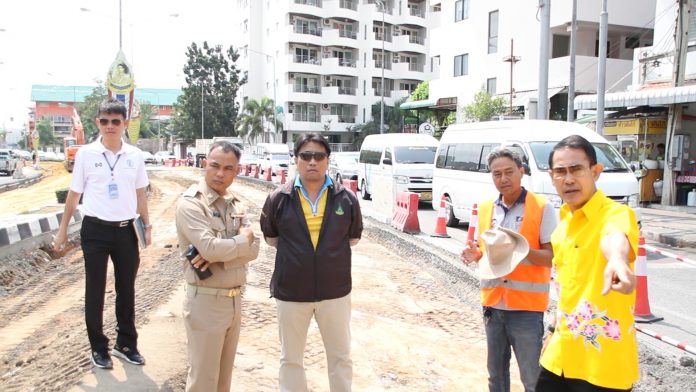 Pattaya –
Jomtien Road construction is 90% completed and a temporary U-turn is set to be opened to reduce traffic according to Pattaya City Officials.
A team of officers led by Pattaya Deputy Mayor Pattana Boonsawat inspected the construction area this weekend.
Mr. Pattana told The Pattaya News, "The road construction is along the Jontien Second Road which is about 8 kilometres long and continues to Phra Tamnak Road, Pattaya Third Road, Thep Prasit Road and Attajinda Road."
"The roadwork being done is for surfacing, water drain installation and road signs." he added.
"The total budget for the construction is 71.6 million baht. The construction contract had started from June last year until next month." he explained.
"The construction is now 90% completed. It is expected that it will be finished by next month." he noted.
Officials understand the local complaints on many roads being dug up at the same time but stressed that it was unfortunately unavoidable as the contract ends in a month and the work needs to be finished before that point.
With reduced traffic due to lack of tourist busses and the novel Coronavirus traffic is not as bad as it could have been, however a temporary U turn will be set up to help deal with complaints of no u turns available for several Kilometers due to the construction on Jomtien Second Road.
The Jomtien construction contracts and work completion date of a month does not include some of the Pattaya work, including the work on the Walking Street area which has just begun to also install new drainage pipes. Walking Street was originally set to be completed in October but pushed back past the high season.
The work on moving cables underground across the city is also a separate project and not expected to be finished within a month. Some of this includes work being done in the Pratumnak hill area.
Written by Adam Judd for The Pattaya News