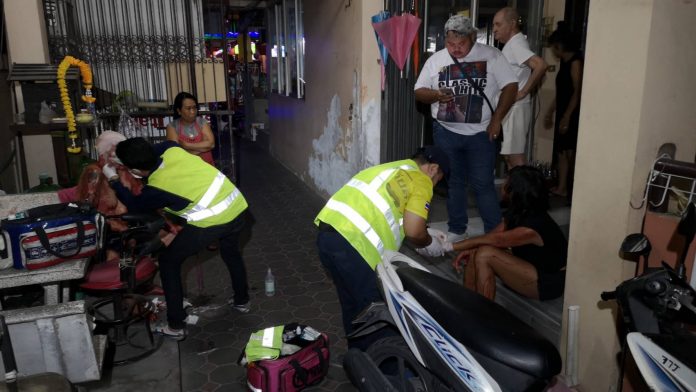 Pattaya-
A Thai woman and her British husband have both sustained serious injuries from slash wounds after a bloody knife fight following an argument in Pattaya early this morning.
Emergency responders and The Pattaya News were notified of the incident after midnight at an apartment on Pattaya Second Road.
Emergency responders arrived at the scene to find the injured parties and a 78 year old British national with serious slash wounds to his face and head. His name has been with held pending a full police investigation.
A 67 year old Thai woman, the British National's wife, had also sustained serious slash wounds to her hands. They were both taken to separate local hospitals. Her name was also withheld pending a full investigation.
The wife told The Pattaya News that she was verbally arguing with her husband before he allegedly pulled a knife to attack her. She claims she was defending herself and managed to wrestle the knife away from him and fight back which is he how he sustained his numerous wounds.
Pattaya Police were called by neighbors after they reported a disturbance in the area. They will be investigating both individuals and deciding whether to file further charges. Neighbors claimed to the Pattaya News that alcohol was a major factor in the argument. Multiple open cans of alcohol were present in the apartment.