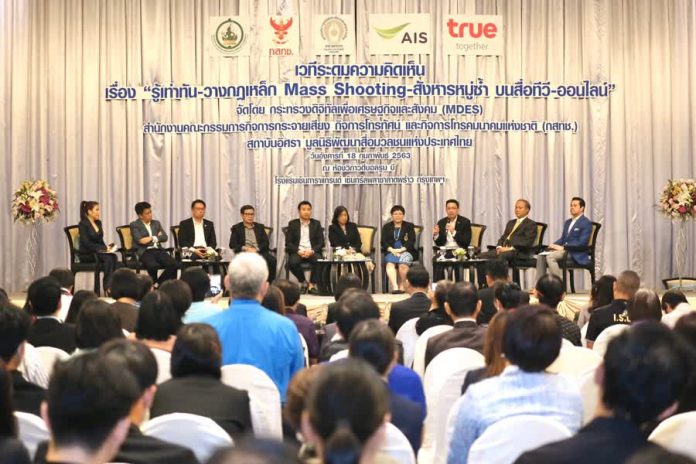 BANGKOK(NNT) – The Digital Economy and Society Minister has put a spotlight on the need to appoint commanders to navigate the situation at a time of crisis, especially in terms of controlling the flow of information, in order to provide accurate news to members of the public without jeopardizing the police effort to resolve the conflict.
Minister Buddhipongse Punnakanta made the comment at a forum attended by his ministry, the NBTC, and ISRA Instutite Thai Press Development Foundation.
The Minister was referring to the mass shooting earlier this month which saw members of the press ignore a direct order from the Office of The National Broadcasting and Telecommunications Commission (NBTC) to stop presenting updates on the assault, unintentionally giving the attacker information on the official operation.
Buddhipongse urged members of the public to help instill the habit of information screening and fact checking among the younger generation.
The Digital Economy Minister recommended assigning a point-person responsible for managing the flow of information, believing that doing so would keep people informed without revealing details of the official operation, to the perpetrators.

The Pattaya News notes that it it followed the guidelines set and did not post unofficial updates or information on locations of police, victims, graphic photos, live feeds and videos, etc. TPN has a general editorial policy of not posting graphic photos or videos and showing compassion and sympathy to the victims.
Critics have said that by only allowing the government to release and approve information during a crisis that it can cause many detriments as well, as many people were able to use social media to reach rescue workers for help and to follow the developments posted by various news networks.