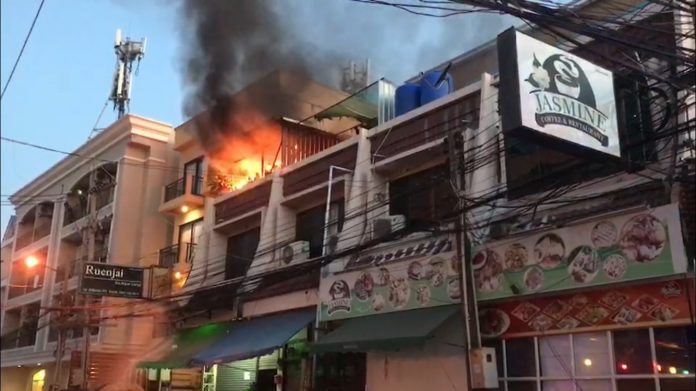 Pattaya–

A mother and her two and a half year old son have survived a blazing apartment fire early this morning in Pattaya.
Fire fighters were notified of the incident at 6AM at a building just off of third road in Pattaya near the popular Jasmine Coffee shop.
They arrived at the scene along with The Pattaya News to find an intense fire blazing on the entire top floor of the building. It took about twenty minutes to control the fire. The fire had started around the roof of the building, with the exact location still being determined by investigators.
Ms. Nartthida Kanyakrue said she heard a noise on the roof top while lying in bed. At first, she thought that it was raining.
She began to smell smoke and got out of bed to investigate at which point she saw a furious fire had broken out. She took her son, who had been sleeping, and safely ran out from the building as smoke filled her apartment. No other people lived in the building or were injured in the blaze.
Forensic police are investigating to find the cause of the fire which has not been determined at this time.