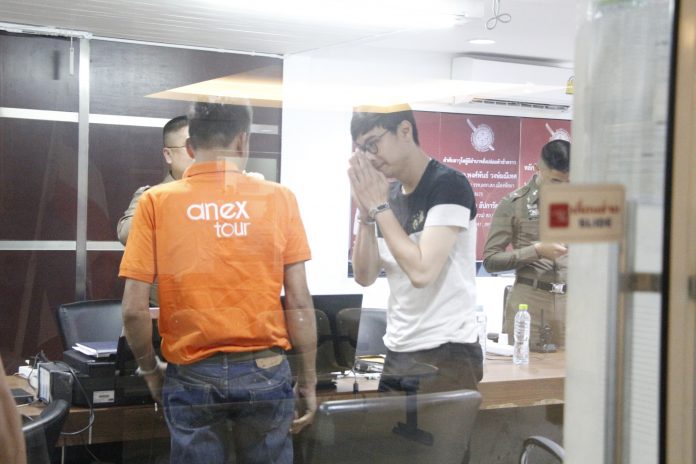 Pattaya-
A 31 year old Thai man in a fit of road rage pulled out a BB gun on a van driver carrying Russian tourists in busy traffic on Second Road in Jomtien this weekend which was caught on a video that went viral on social media. The video can be found on our Facebook page notes The Pattaya News.
The man, Mr. Pisak Kulkaelpring, 31, from Bangkok, was driving a Grey Toyota Vios on Second Road Saturday, November 23rd around 1:00 PM in Jomtien near the Hanuman intersection when he got into an altercation with the driver of a van carrying Russian tourists, Mr. Sathien Saothongyao, 39 years old.
The exact nature of the altercation was not made clear by either party, however a video shot by a bystander who posted it to social media where it went viral shows both men outside of their vehicles arguing. Mr. Kulkaelpring appears irrate and pulls out what appears to be a firearm from his vehicle which he holds at his side.
Mr. Saothongyao stayed calm in the incident and managed to talk Mr. Kulkaelpring down from anger.
Both men were quickly identified by police and summoned to the Pattaya Police station where both came voluntarily later that evening.
Mr. Kulkaelpring, who works as a local tour guide himself, admitted he lost his cool and apologized to Mr. Saothongyao as well as Pattaya City Authorities for hurting the image of Pattaya. He also apologized to the tourists being carried in the van who were said to be scared during the road rage incident.
The weapon was found to be a BB gun which police confiscated. Mr. Kulkaelpring told the Pattaya News he carries it because he has been robbed before for his own personal safety. Mr. Saothongyao declined to press charges and accepted the apology.