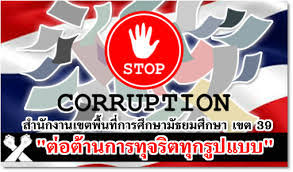 Thailand has held an International Anti-Corruption Day event earlier last week, encouraging all people in Thailand to fight against corruption. The opening ceremony  was presided over by by Privy Councillor Gen Paiboon Khumchaya.
He told event attendees that the Prime Minister is serious about the suppression of corruption.
He pointed out that there are many corruption cases before the courts in Thailand.
All citizens in Thailand need to help solve the corruption issue which often stems from power and greed, he said.
He said it isn't easy to eliminate corruption.
The Privy Councillor said it is now time for leaders to find ways to solve corruption issues. And for the ACT to lead volunteers and related sectors to eliminate corruption.
Gen Paiboon did not hesitate in accusing civil servants; political office holders; and business people of jointly siphoning money from the government while spending state budgets.
He has accused the three groups of corrupt people of being to blame for Thailand struggling to develop.
It is not only financial greed that holds the country back, but also their desire for career advancement, he said.
Source: National News Bureau of Thailand