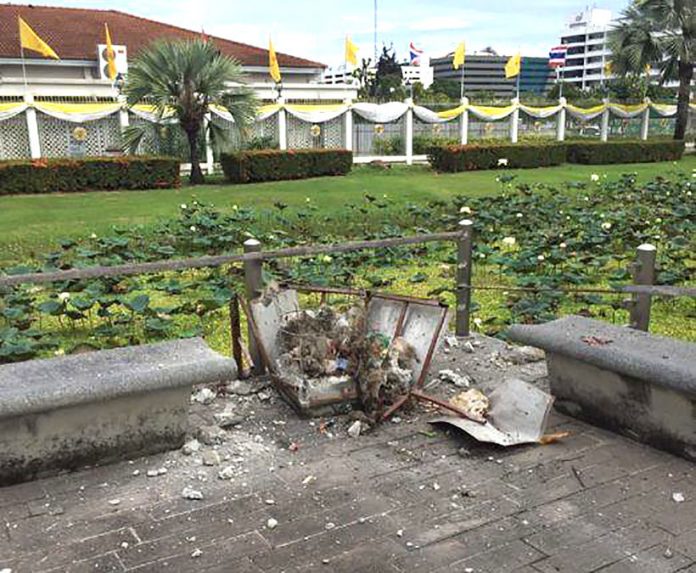 Four small bombs exploded in Bangkok this morning:
At around 8:10 am this morning there was an explosion in or near a white car in a parking lot in front of the Mahanakorn Building, Bangkok's tallest structure, near Chong Non-Si BTS station.
At around 8:30 am there was another explosion in a small flower nursery, located under a walkway connecting the BTS station with the Mahanakorn Building.
So far, four people are reported to have been injured.
Three of those hurt were women cleaning the street when a bomb went off. Pictures on local websites showed them looking dazed and getting treatment from medics. One was taken into an ambulance.
Eyewitnesses said a security guard had also been hurt close to the 77-story King Power Mahanakhon building – owned by the King Power group that counts Leicester City football club among its assets. The area was partly cordoned off as police searched the area.
Pol Col Kritsana Pattanacharoen, the Deputy Spokesperson of the Royal Thai Police (RTP), said that one of the injured people has been sent to Chulalongkorn Hospital. The other one suffered only minor injuries and was able to go home.
The Explosive Ordnance Disposal (EOD) team arrived at the scene at around 9.30am and have found initial signs of ball bearing projectiles in the debris.
A third explosion has been reported at the Chaengwattana Government Center this morning and a fire has broken out in the Pratunam area of Bangkok.
Furthermore, a suspect package has been found at the Police Headquarters yesterday (Thursday), but police will not confirm if the five incidents are connected.
Police have also confirmed another explosion near the King Power building on Rama 9 Road.
Police asked the public to be vigilant, but not to panic.
The Thai Prime Minister Prayut Chan-o-cha has condemned those behind the bombings and tweeted he has already ordered those responsible to protect the people and take care of injured people in a Tweet at 11:12 am this morning.
Later this morning, two unexploded devices were found on the footpaths outside the front of the Royal Thai Army's headquarters, also in Chaeng Wattana Road, next door to the Government Building where the first two devices went off today.
Yesterday evening a fake bomb was left at the Royal Police Headquarters and may be connected to the incident's today.
The devices that exploded were believed to be so-called "ping pong bombs", the size of a tennis ball. They appeared to be symbolic attacks aimed at embarrassing the government during the major summit but not designed to cause mass casualties.
A major Southeast Asian security summit is taking place in Bangkok this weekend and is being attended by top officials from the United States and China.
There has been no immediate claim of responsibility for the blasts.
With some information sourced from ThaiPBS