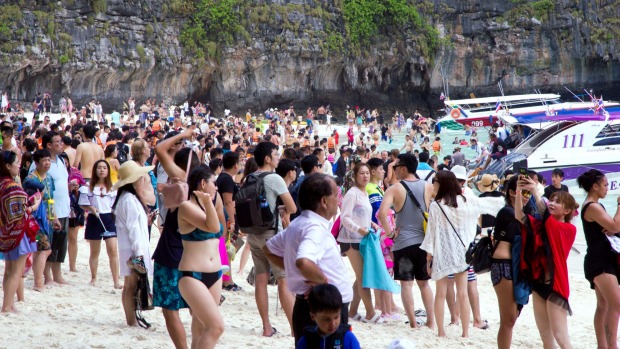 Business Times-
Thailand has a good chance of benefiting from the ongoing China-U.S. trade war, analysts said, as mainland Chinese tourists opt for travels closer to home instead of booking for western trips.
According to the Bangkok Post, the Tourism Authority of Thailand (TAT) is closely monitoring if Beijing will move to block Chinese tourists from making trips to the United States. If this happens, Thailand's tourism sector will make a move.
Thailand already benefits from promotional efforts by TAT agencies in five Chinese cities namely Kunming, Shanghai, Chengdu, Guangzhou, and Beijing. It is expected that TAT offices in these cities will further promote Thai tourist spots at this critical era wherein both China and the U.S. refuse to back down.
TAT Governor Yuthasak Supasorn noted that data compiled by the mentioned TAT branches suggest trade disputes with the White House have kept Chinese travelers from planning trips outside of Asia.
"These factors may slow down decision-making for overseas trips and tourism spending," Yuthasak pointed out. The ultimate goal is to attract visitors from China to engage in tourism events in Thailand to boost the tourism sector as a whole.
Yuthasak further explained that it's not just Thailand that could benefit from the ensuing China-U.S. trade war. Other countries in Asia may also be working to build their tourism packages for Chinese travel enthusiasts. The TAT governor said competition may be tough.
Despite potential competition from other Asian rivals, Thailand is still a viable choice for many Chinese travelers. In 2018, around 10.5 million visited Thailand and industry analysts are expecting the numbers to balloon further this year, especially if the trade war doesn't reach a conclusion.
Last week, TAT already starting working to build its tourism industry by allowing for a partnership between The Mall Group and the Siam Commercial Bank (SCB) for the unveiling of a Visa prepaid tourist card.
Under the joint venture, international tourists the first 1,000 tourists who will submit applications for the card will be rewarded with vouchers worth 500 Baht, Travel Daily Media reported.
The vouchers can be used from June 1 to December 31, 2019, for purchases at department stores under The Mall Group. TAT Deputy Governor Siripakorn Cheawsamoot said the Thai government supports the payment sector in its efforts to help boost tourism in the country.
Industry analysts believe the new foreign visa card will help in Thailand's goal of attracting more Chinese tourists to visit some of the country's most popular destinations such as Bangkok's Grand Palace, Chiang Mai's Wat Chedi Luang, and Phuket's Patong Beach.
China has yet to announce if it will prohibit its residents to travel to the United States just like it did when it had tensions with Japan and South Korea.