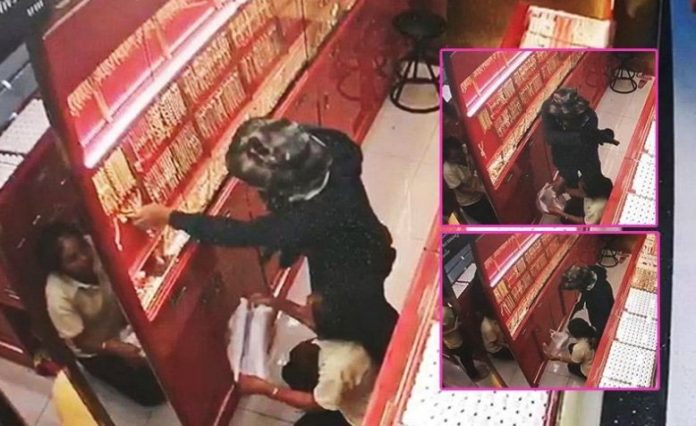 Sattahip-
Local Police are hunting a masked gunman who held up staff at a gold shop in the Tao Than branch of Big C yesterday.
Sattahip police arrived to find the shocked staff at the Supatra Yaowarat shop where the gunman had stolen gold jewelry weighing 109 baht with a value of 2,120,050 baht.
The man was caught on CCTV. He was 160-170 cms tall wearing a long-sleeved black outfit, jeans, and a khaki hat and face mask. He had brown shoes.
He forced Umaporn Buabutr, 22, to hold a white plastic bag he brought with him while he filled it with the gold.
He then ran off behind the Thong Thip market pursued by Big C trolley pusher Chartchai Kham-euam.
At this point, he jumped into a nearby river and swam away into a large wooded area at which point Chartchai, who was reported to be unable to swim, stopped his pursuit. Local police thanked him for attempting to stop the thief.
Police deployed 30 men to flush out the robber into the woods. They have set checkpoints around the wooded area and believe they currently have it on lockdown.
They found an M 92 BB gun box, black gloves, and hat discarded by house number 3/21 Moo 8 near the market.
The Sattahip force said that the man was certainly hiding out in the woods and would soon be in custody.
They seemed to know who he might be.
Source: Daily News