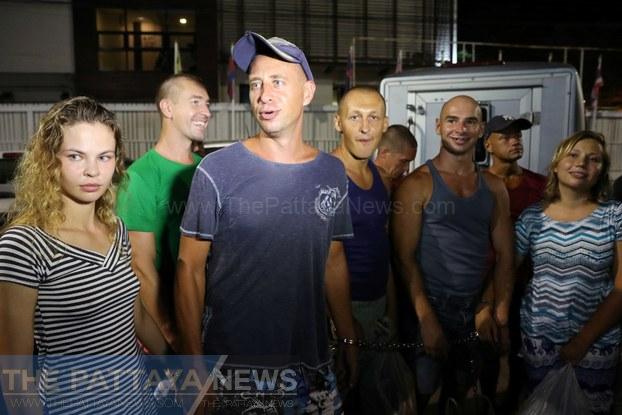 Bangkok-
A Thai court released a Belarusian woman and seven co-defendants on Tuesday but ordered them all deported after convicting them on charges of soliciting prostitution and conspiracy to form a criminal syndicate, their lawyer and Thailand's immigration chief told The Associated press.
Anastasia Vashukevich, a model, escort and self-described sex coach who is also known as Nastya Rybka, and her co-defendants were convicted but handed suspended sentences after entering guilty pleas during the start of their trial at the Pattaya courthouse, said an attorney representing the eight. Thailand's immigration chief said they would be deported to Russia next week.
"All of them pleaded guilty and the court suspended the remaining prison term and [ordered] that they were free from court custody," the lawyer, who asked not to be named, told the news media.
"However, after the court finished reading the verdict, immigration police officials detained all defendants and brought them to Bangkok for further deportation," the lawyer said.
Vashukevich's case made international headlines following her arrest in Pattaya in February 2018 because she claimed to have damning evidence to support allegations of Russian meddling in the 2016 U.S. presidential election.
She said she had an affair with a Russian billionaire who had business dealings with Paul Manafort, U.S. President Donald Trump's former campaign manager who was convicted last year on criminal charges including conspiracy to defraud the United States.
No proof to back the Belarusian's claims has ever come out or been publicized.
Vashukevich was arrested along with nine other foreigners at a luxury hotel in Pattaya, a seaside town south of Bangkok that is popular with tourists, while allegedly taking part in a sex-training course at a local hotel.
The 10 initially were charged with working without a permit, but two were later expelled from Thailand, while the remaining eight were charged with soliciting prostitution and conspiracy to form a syndicate.
Vashukevich's partner, Russian national Aleksandr Kirillov (also known as Alex Lesley), allegedly led the sex-training seminar. The six others who pleaded guilty on Tuesday comprised Russians and Belarusians, according to Radio Free Europe/Radio Liberty, a sister entity of BenarNews.
The court sentenced each of the co-defendants to three years in prison but halved their terms because they all pleaded guilty, the lawyer said, adding that they were each fined 150,000 baht (U.S. $4,702).
Lt. Gen. Surachate Hakparn, the Thai immigration chief, said his office was preparing to deport them to Russia.
"We've received them and, tomorrow, I will contact the Russian ambassador in Thailand to arrange a date to bring them there and buy tickets," he told BenarNews by phone.
He said he expected the eight to be deported by the end of next week. They will all be blacklisted and barred from returning to Thailand.