Pattaya-
At 6:30PM on Thursday, September 6th, 2018 Mr. Naris Niwapholvong, the District Sherriff of Banglamung, received a complaint from the office of the Prime Minister regarding a villa in Hua Yai on Moo 3, Summer 107/17, conducting daily rentals against the Thai Hotel law and having loud, disruptive music and parties daily. Local residents of the village had complained to the office of the Prime Minister after they claimed that local level officials were unable to assist after nearly a year of complaints about the house and nightly wild parties and drunk teenagers in the quiet neighbourhood.
An investigation prior to the raid discovered that the villa was advertising daily rentals on booking websites on the internet for 3,900 baht a night. The owner, Mr. Panupon Tippoorn, 28 years old, was the individual advertising the villa.
Officials stated they have previously warned the owner of the villa to discontinue daily rentals, however, he continued to do so. Thus, yesterday police raided the villa.
They discovered ten young Thai teenagers, loud music, alcohol and a party atmosphere upon the surprise raid of the premises. They drug tested all ten teenagers and half, four woman and one man, tested positive for Yabba. (Meth) All five were arrested and brought to Pattaya City Police Station for further processing and charges.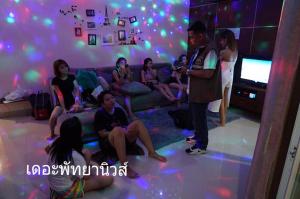 The owner has been charged with opening a hotel without permission, allowing minors to drink alcohol, endorsing drug usage and violating a previous authority order to discontinue using the villa for rentals. The 36 year old caretaker of the villa was not arrested as police stated was not complicit in the rentals or what was conducted on the premises.