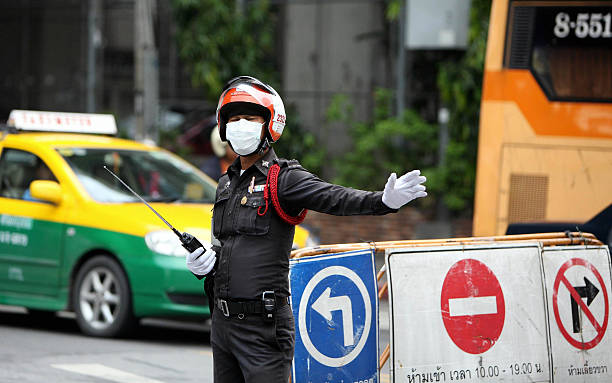 Top Brass police orders have reached Pattaya telling cops there to smarten up, stop hiding behind masks and balaclavas and communicate more effectively with tourists.

 
Local police chief Pol Col Apichai Krobpetch told Pattaya News that the orders had reached his office and he was busy disseminating the information to his men. This was especially important as Pattaya is a big tourist town, he noted.m

 
Traffic cops are being told to implement the law fairly and solve traffic problems at the resort.
 
They are being told to provide a better service, help the public at all times and tidy up their procedures when it comes to searches and arrests. Better communication with tourists is also required.
 
And – as has been reported in other areas of Thailand – the cops are once again being told to dress properly and be polite.

 
Masks and balaclavas or anything obscuring their faces is now a "no-no" as the top brass attempt to improve the image of the cops among Thais and tourists alike at one of the country's leading holiday destinations.
 
Thaivisa notes that last year the chief arranged haircuts at the station for 400 men as a previous set of orders came from on high. On another occasion he organised keep fit sessions in the Beach Road station car park.
 
It remains to be seen what the chief decides to do this time to improve the attitude and dress sense of his men.