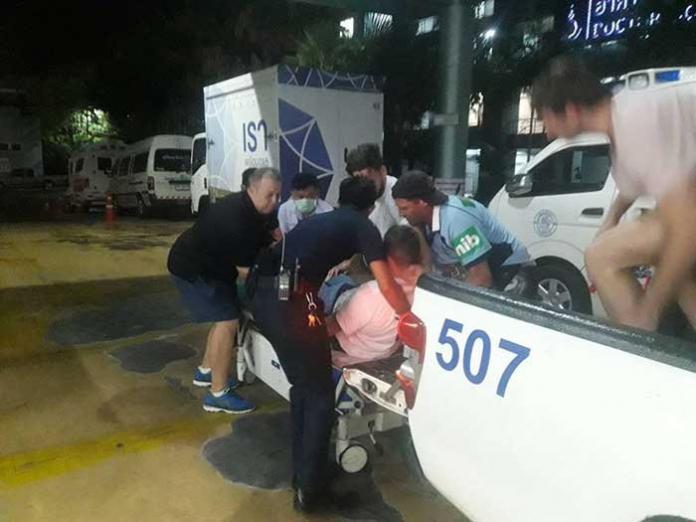 Pattaya-
It appears there is a lot more to the story of the Australian national, Jaydon Sienkiewicz, 21, being stabbed at Mixx Disco on Walking Street in South Pattaya.
Unlike what was originally told to the police by the victim's family, Jaydon was NOT stabbed in the restroom but had wandered away from his family who were in a party of ten on his own. They assumed he had gone to the restroom but he had in fact wandered to the opposite side of the disco and as seen on the video below he touched a girl with a man only identified as from Israel.
As seen on the video the man saw the inappropriate touch and lashed out at the man despite the woman with him attempting to hold him back as well as another man nearby. He can clearly be seen on video pulling a knife from his pocket and then stabbing Jaydon in the side. Jaydon, clearly confused pulls up his shirt and only understood when he returned to his family that he had suffered a fairly major stab wound.
Jaydon is still in the hospital and has been upgraded to serious but stable condition. He has spoken to the police and stated he was very intoxicated at the time and remembers little of the incident. The police have not released other details of his testimony.
The Isreali man, who police have identified but not named to the media, fled the disco right after the stabbing, took a taxi to the airport and flew out on the first available flight, leaving the country within 5 hours of the stabbing. Thai police have issued an arrest warrant for him and contacted the Israel embassy who stated that they will co-operate with Thai authorities in bringing the man to justice.
It is unclear if Jaydon will face a penalty or charges for touching the girl without her permission.