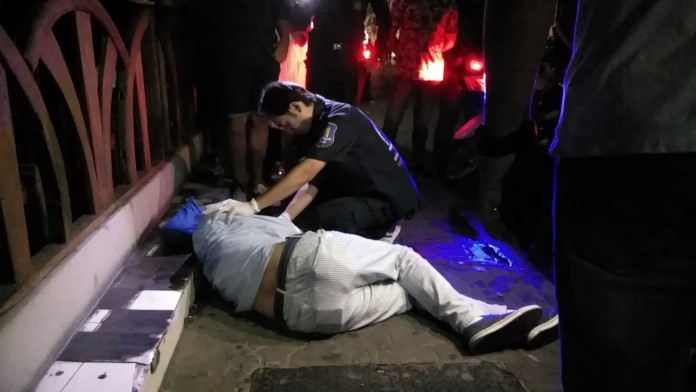 Pattaya-
Yet another fight has happened on Walking Street, the fourth major fight in two weeks in the so called Safe Zone patrolled by many police and tourist police and with hundreds of bouncers at many bars.
A man who was described to be Russian by witnesses based on his speech knocked out an Iranian man, Mr. Henry Sahabaybeh, 57 years of age in the early hours of Saturday Morning, the 31st. Witnesses described the Russian man as drunk, 25-30 years old and enraged at a minor situation and dispute. The Russian man knocked Mr. Sahabaybeh out with a punch and then fled the scene as people began to take videos. Witnesses said multiple people told him to stay for police but the Russian man still fled.
The Iranian man was taken to the hospital for treatment and police believe they are on the trail for the aggressor. CCTV and witnesses state the Russian man struck first and upon seeing the damage done fled the scene.
Police are asking for the Russian man to turn himself in vs. face life time blacklisting and major penalties as they believe they know who he is.
We will give any updates as we give them.