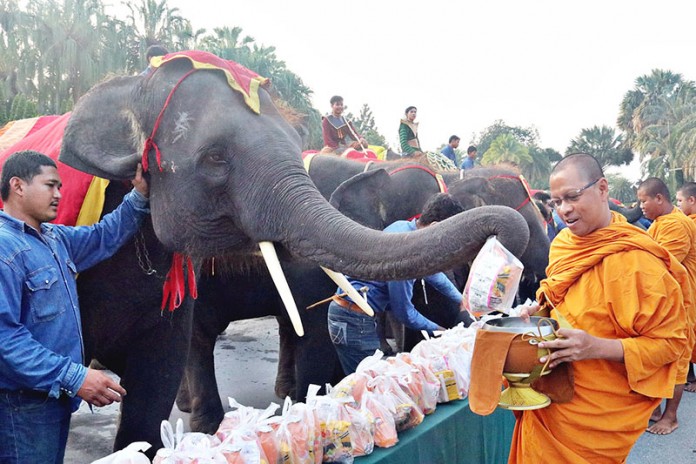 PATTAYA — Elephants feasted on fruit and were made to reenact historical battles nationwide as the country celebrates the national animal on Thai Elephant Day.
Tuesday's events were held throughout the country. In Chonburi province, eighty-seven elephants were taken to the Nong Nooch Tropical Botanical Garden where they "made merit" to nine monks from Wat Samakkhi Banphot.
"Every year we hold a big event to encourage people to conserve Thai elephants, and make Thais and foreigners love and bond with elephants before they go extinct" Kampol Tansajja, director of the park said Tuesday.
The pachyderms will be paraded around the park before feasting on what park managers said  is the world's largest fruit buffet for elephants.
A calf named Pang Fa Jaem, 1, who had been injured in a hunting trap in Chanthaburi province and taken in by the park was also brought in to participate.
Surin
Government officials, mahouts and mystics, led by provincial official Kitimet Rungthanikiat, prayed to the Pa Kam Shrine, where a buffalo-skin rope is cherished by local mahouts for its purported mystical powers over elephants.
Nine elephants participated in a ceremony where they made merit to 19 monks. Starting at 10am, 50 elephants and hundreds of performers started a performance in honor of the holiday by reenacting historical battles.
One-hundred elephants from a local rehabilitation facility were to be fed a buffet table stretching 200 meters covered in watermelons, pineapples, bananas and jicama.
Thai Elephant Day is a state-designated holiday that falls on March 13. Elephants, the national animal, have long been intimately tied with Thai culture and history, where lore has past kings riding them into battle.