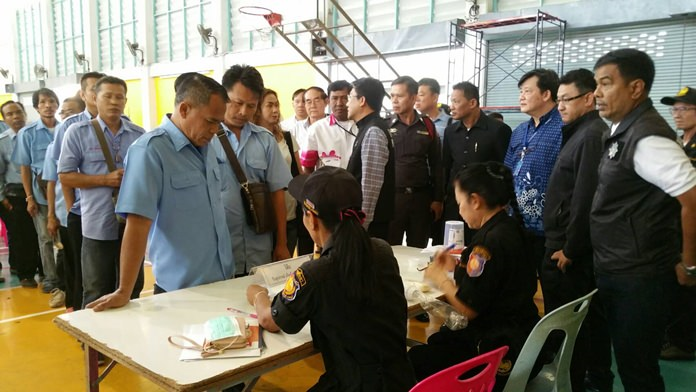 Pattaya-
In an effort to improve public safety Pattaya City Officials have started testing all the licensed motorbike drivers in Pattaya.
Pattaya City Official Teerasak Jatuporn and municipal police chief Pol. Maj. Jirawat Sukontasap conducted the lessons and test Feb. 23 at Pattaya School No. 8. Staffers from the Chonburi Land Transportation Department lectured on traffic laws that are often ignored in Pattaya, especially by public-transport drivers.
Discussion topics included running red lights, illegal U-turns, driving on sidewalks, driving against traffic, and parking in prohibited areas.
The drivers also were subjected to urine tests, with those who failed being detained and their licenses suspended while they attend a drug-rehabilitation course. It was unannounced how many drivers failed the mandatory drug testing.
Teerasak said the session was organized to improve compliance with traffic laws, reduce road congestion and improve the image of Pattaya's public-transport sector among tourists.
Motorcycle drivers were told not to overcharge passengers and act as "eyes and ears" for police around town.
Officials stated more tests and drug testing would be coming in the immediate future.