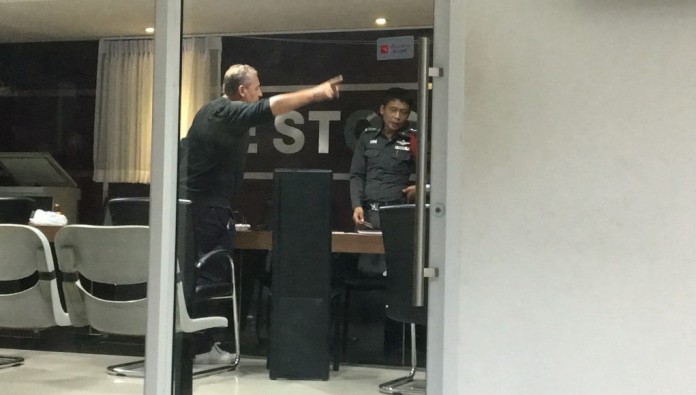 Pattaya-
Over the weekend two men and one of the men's girlfriend, whose names have not been released, got into a fistfight at a beer bar near Made in Thailand. During the fight the police were called and arrested both men to take them to Soi 9 to determine what caused the fight and who was at fault. Both men appeared to be heavily intoxicated at the time.
Upon arriving at the police station tempers were still reported to be flaring and both men refused to take responsibility or accountability and blamed the other party for starting the altercation. Unsurprisingly, the girlfriend of the man in the photo below backed his side of the story. The staff of the bar where the altercation took place claimed they were not sure who started the fight and that the CCTV, although working, did not capture all that happened due to a blind spot.
The real story here, however, is when the man without a girlfriend asked to go to the bathroom in the middle of the debate over fault. The police handling the case agreed and the man, without an escort, went to the restroom. He was never seen again and is believed to have fled the police station. Further, the police did not have his proper identification so had no idea who he was.
This further infuriated the man with the girlfriend who at this point let his temper go on the police officers (Seen in the photo above), causing a scene, yelling and screaming at them and chastising them for perceived incompetence. His girlfriend eventually calmed him down and they left the police station without charges.
A full search of the toilet drain did not find the other suspect.