A French national confessed Tuesday to cutting the throat of his Thai lover's Italian husband, Thai Police stated on January 30th, 2018.
Amaury Rigaud this morning said he was aided in the crime by Rujira Iemlamai – Giuseppe de Stefani's wife. His confession came after the suspects turned on each other the day before, accusing the other of the crime.
Police said they've now dismissed claims of a "third killer," and charged both with murder.
"He confessed to doing the actual killing, but we don't believe him 100 percent," Col. Chaisathian Maneejak, chief of the local police station investigating the crime, said Tuesday afternoon. "That's why we are charging both of them. There's no third killer either. Everything's done."
Rujira, 38, and Rigaud, 33, were captured in the jungle along the provincial border between Kamphaeng Phet and Tak for allegedly dismembering and burning Giuseppe de Stefani.
"We found a suitable amount of evidence," Col. Direk Thannanoniwat said Tuesday afternoon, the forensic cop who examined Rujira and Rigaud's getaway vehicle.
Before confessing, Rigaud had reportedly told them their love triangle was actually a square, and alleged that a Thai man – another boyfriend of Rujira – had aided and abetted in the murder.
Maj. Gen. Thawatchai Muannara said Rigaud was a soldier in the French army, where he purportedly served five years as a sniper before coming to Thailand and meeting Rujira in 2016.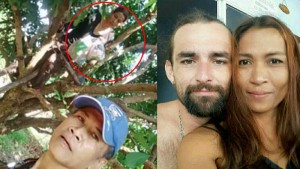 "He used his military skills to help him escape into and hide in the jungle very skillfully," Thawatchai said.
Col. Chaisathian Maneejak of the local police station investigating the crime said that on the day of the murder, 61-year-old de Stefani told Rigaud he would break up with Rujira for 100,000 baht. The three were discussing terms but could not come to an agreement, a dispute which turned heated and resulted in the Italian's murder.
On Monday morning, January 29th 2018, a team of nearly one hundred policemen found Rujira hiding in a longan tree in an orchard, holding a bag of food and visibly exhausted after 10 days on the run. Rigaud was arrested in the same orchard a kilometer away Sunday night.
Police were keeping the two in custody at separate locations.
We here at the Pattaya News are glad to hear that these killers are behind bars. The Thai police state they will be prosecuted to the fullest extent of the law.