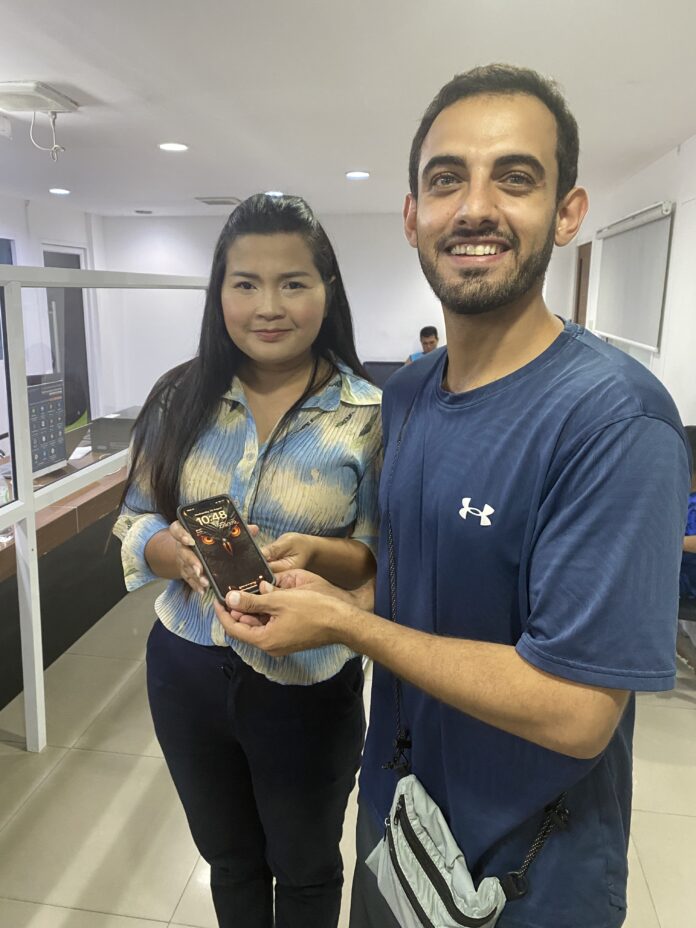 Pattaya, Thailand-
Pattaya's foreign police volunteers, or FPV, recently shared a heartwarming story with The Pattaya News that we wanted to share with our readers.
Often we tend to hear many negative stories in Pattaya, which is not unusual in a tourism city with extensive nightlife, diverse clientele, differing cultures, and language barriers. However, we also like to highlight stories of compassion and kindness when they are shared, like this one.
A Middle Eastern tourist, whose name was withheld but consented to a picture, had recently taken a Grab Taxi in Pattaya when he found to his horror that his beloved iPhone 14 was missing, having been left by accident in the taxi. He was also concerned by the potential loss of his data in the phone which contained crucial information for his holiday.
The tourist attempted to contact Grab but this was initially to no avail so he visited Pattaya Police station to seek help.
The friendly team of Foreign Police Volunteers decided to immediately assist the tourist and managed to get in touch with the dispatchers at Grab, who managed to contact the taxi driver in question, whose name was also withheld but consented to the photo in this article.
Within one hour she managed to come to the police station and reunite the tourist with his phone. The man offered money to both the FPV and the woman but both declined, however the tourist said he still had a surprise.
The tourist left the station and returned a short while later with the items in the photos below…buying McDonald's dinners for everyone working at the police station. The police were enormously grateful as was the tourist, who once again profusely thanked the FPV.
If you have a positive story to share in Pattaya, please contact us at Editor@thepattayanews.com.