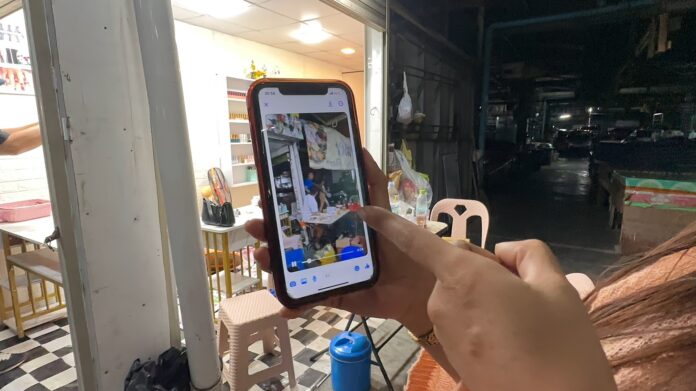 Pattaya –
A foreign man allegedly damaged a woman's salon after she became the new owner over his girlfriend's salon.
Mrs. Nijada Korby, 35, the salon owner in Soi Bua Khao, South Pattaya, filed a formal police report to the Pattaya City Police with video evidence.
Mrs. Nijada told the Pattaya News that she, according to her, legally took ownership over the salon from the previous owner who is the foreigner's girlfriend. Mrs. Nijada's salon was opened on May 27th last month. Shortly after opening the venue the foreign man came to her salon and tried to destroy it. He claimed the salon belonged to him, but according to Nijada this is incorrect.
The names of the foreign man and his girlfriend were not released by Pattaya police, noting an ongoing investigation.
Mrs. Nijada filed a report to Pattaya police after the first incident . Her salon was opened again on Friday (June 9th) and once again the same foreign man attempted to destroy her salon and was trying to lock the door with his own lock and key. He was seen on CCTV appearing to throw chairs around the nearby area, shouting loudly, and scaring off many customers and nearby bystanders.
Mrs. Nijada said she contacted his girlfriend who is the previous salon owner. She said she was unable to understand her boyfriend and had made it clear that the salon was legally sold and transferred. Mrs. Nijada and local vendors nearby are afraid of the foreign man who they are afraid might be dangerous and emotionally unstable, claiming he has threatened multiple people in the area.
Pattaya police stated they would investigate the issue and encouraged the male suspect involved to come to the Pattaya police station and explain his side of the story.
-=-=-=-=-=-=-=–=-=-=-=-=-=-=-=
Help support The Pattaya News in 2023!
Need legal advice or a lawyer? We can help. Click here.
See more information about listing a property with us by clicking here.
Want to advertise with us or inquire about promoting your business, event, charity, or sporting event? E-mail us at Sales@ThePattayanews.com