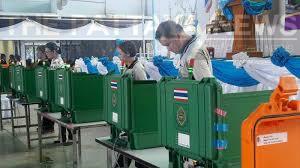 The Election Commission (EC) is taking action to maintain the integrity of the recently held general election. Specifically, it plans to recommend vote recounts for certain party list constituencies after having discovered voting cards that had been distributed but not used. Adding to the complexities, the EC is also rushing to examine more than 280 disputes questioning the validity of the election results.
The EC noted that these disputes are not all related, adding that some are fairly serious and could have major consequences. After closely reviewing the issues, the EC also said it found that some complaints had no substance and so were dismissed accordingly, while those that seemed legitimate are currently under investigation.
The investigation is wide-ranging, touching on about 20-30 elected officials from all political parties. The allegations vary, from vote-buying and misleading campaign tactics to smear campaigns aimed at damaging reputations. The seriousness of these cases will be measured based on the actual evidence brought forward.
The law says the EC can only announce election results for constituency-based MPs if they're sure the election was conducted fairly and justly, and after they've reviewed at least 95% of all electoral districts. The EC added that the process of officially recognizing and endorsing MPs will continue without unnecessary delay, as it aims to conclude the process within a 60-day timeframe.
In another development, the EC is expected to suggest a vote recount for some proportional representation MPs this week. The move comes after discovering discrepancies between the number of votes counted and the number of people who actually voted in these units. These discrepancies seem to have possibly been the result of double-counting or missed markings during the counting process.
The preceding is a press release from the Thai government.