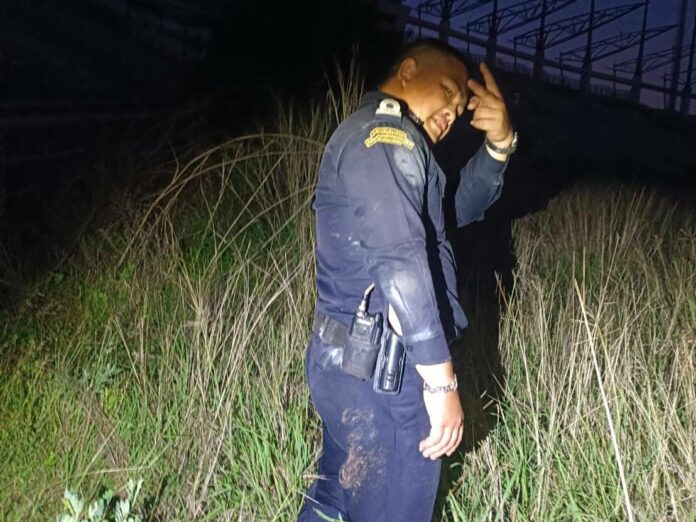 Pattaya —
An officer from the Pattaya City Municipality was trying to catch a wire thief in the middle of the night on May 31st, when he fell into a five-meter-deep pit covered in tall grass. Luckily, he suffered no injuries.
The story of Mr. Wittaya Sodavichit, an officer working at a security division at the Pattaya City Municipality, went viral on social media after he fell into a deep construction pit at the Chaiyapruek Sports Stadium while trying to catch a copper thief last Wednesday.
According to the Pattaya mayor's Facebook page, Mr. Wittaya was patrolling risky spots around Pattaya at night when he received a report from his co-worker that there was a thief who snuck into the Chaiyapruek stadium to steal electrical wires. The officer then immediately rushed to the stadium to provide reinforcement.
At the stadium, Mr. Wittaya spotted the thief and shouted at them to stop. Upon hearing his voice, the suspect dropped their tools and fled. Mr. Witthaya and his team then pursued the suspect, maintaining a distance of approximately 30-40 meters. However, as Mr. Wittaya reached a construction zone near the stadium gate, he fell into an uncovered five-meter-deep pit that was concealed in tall grass.
Mr. Wittaya said he was unable to climb out on his own, so he called his teammates for help. Meanwhile, the suspect managed to escape.
According to reports, Mr. Wittaya did not suffer injuries although the hole he fell in had many metal pipes that could impale him.
He was still in high spirits as he posed for pictures with his teammates after the incident.
-=-=-=-=-=-=-=–=-=-=-=-=-=-=-=
Need legal advice or a lawyer? We can help. Click here.
See more information about listing a property with us by clicking here.